It can be exciting to start researching what you want to add to your Thailand bucket list before you even get on the plane – but it can be difficult to know where to start! To help you out, we've asked some of our teachers for their recommendations and have put them all into one handy blog so that you can see what takes your fancy.
Don't forget to grab a pen and paper so you can remember them all!
1. The Ethical Elephant Experience: The first thing you can't miss out on
Elephants are seen as really important in Thai culture, in fact, the Thai elephant is the national animal of the Land of Smiles. An ethical elephant sanctuary is a great way to explore this side of Thailand – especially if you're an animal fan. Not only do you get up close and personal with these magnificent creatures, but lots of experiences also allow you to feed and bathe them (well on your way to becoming a zookeeper!).
Many of the elephants in these sanctuaries are rescues from old circuses or exploitative environments, so often your money is reinvested into the care and rehabilitation of the elephants – which we think is a great excuse to grab a ticket now and start planning. It's also possible to book with Khao Yai National Park, where you can see the elephants (and even more animals) in a more natural habitat.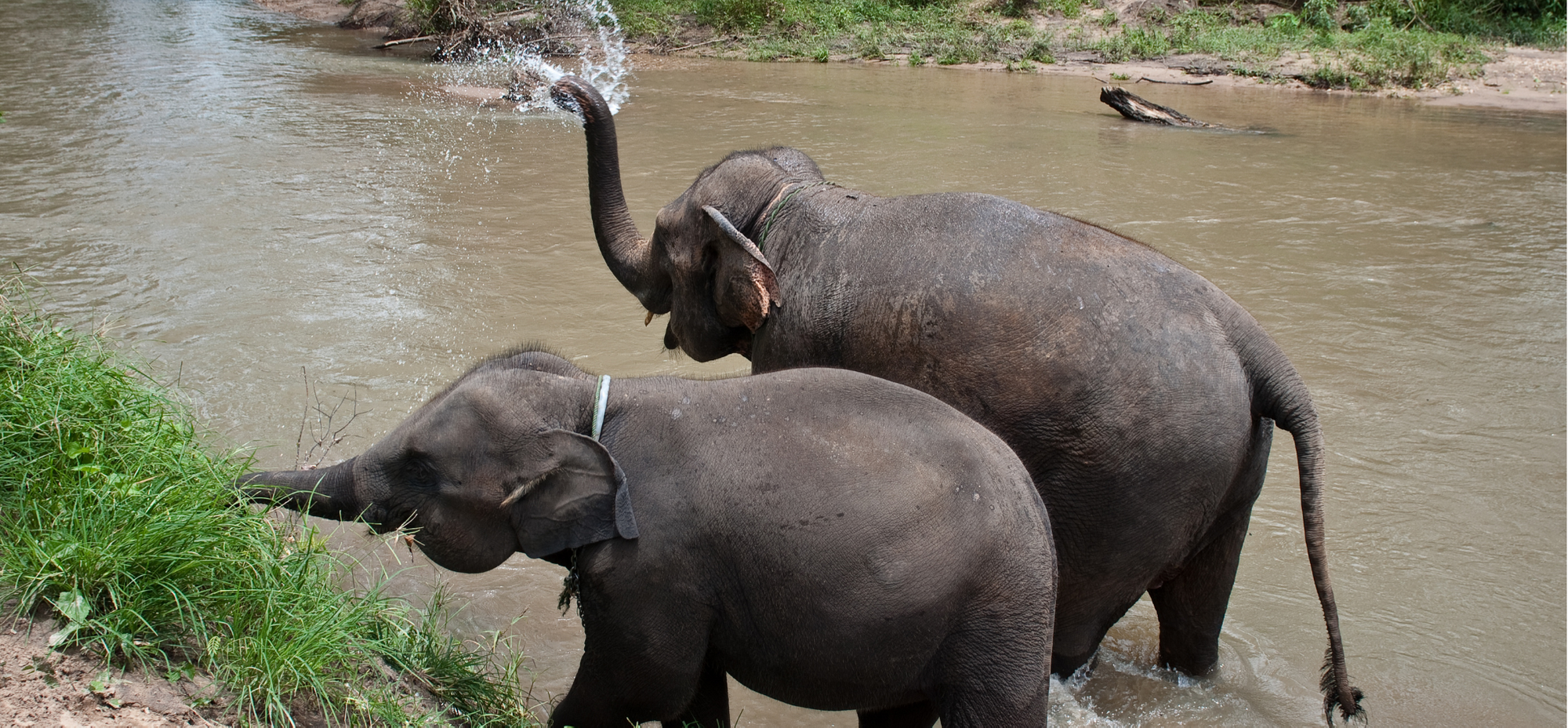 2. Thailand's Bustling Nightlife: Another hit with our teachers
If you're a fan of rooftop bars, clubs and night markets, then Thailand's nightlife has something for you. Enjoy a drink or two? The rooftop bars in Bangkok offer unbeatable views of the city. Make sure to head to one of the many different club scenes afterwards, and enjoy the live evening shows and diverse crowds of people. As Thailand has such a relaxed way of life, you'll find this carries into the evening, where people are out enjoying themselves with friends.
For a laid-back evening, the night markets are the perfect way to experience the real Thailand and see your city at night. Some of Bangkok's best night markets include Asiatique, an old trading hub transformed into a night bazaar and mall, with lots of restaurants to choose from and nightly live shows performed. You could easily lose track of time there. For a slightly different vibe, check out Chang Chui Bangkok Plane Night Market – yes you read that right – it's in a plane! With an artistic vision, the market promotes recycling old materials, shown by the repurposed plane exterior of the main attraction.
Perhaps considered one of the most exciting elements of Thailand nightlife are the shows (you may have seen them in movies or on TV). Whether you're into acrobats, dancing or live music, there is no shortage of these on the busy streets of Thailand. Often just a stone's throw from the clubs, you can change locations all night to experience everything your city has to offer.
3. Island Hopping: For anyone with the travel bug, this is a must
No doubt you've heard about the surrounding islands, either from the internet or the gap year kid. They aren't exaggerating though, and island hopping is the best way to try and see as many of them as possible.
If you want a luxury experience, check out islands like Koh Samui and Phuket. You could also opt for a snorkelling and diving session in Koh Tao – but this is just the start of the list.  It's a great way to meet like-minded people, and they may even be able to give you more recommendations. Try and plan your island-hopping adventure around the different activities you want to do, and you'll be amazed how far your Baht can go!
4. The Grand Palace, Bangkok: Unleash your inner tourist
Pack your selfie stick, because we're going full tourist here. It may be a tourist hot spot, but don't let that deter you from visiting at least once. Former home to the Kings of Siam, the palace certainly isn't lacking grandeur. It's a favourite amongst our teachers for a reason: the instagrammable architecture.
If you can't get enough of The Grand Palace, don't let the fun stop there. As Buddhism is the main religion practiced in Thailand, there is no shortage of sacred temples throughout the country. These temples are often surrounded by serene hiking trials which allow you to really appreciate the beauty of the world around you. A great way to see another side of Thailand.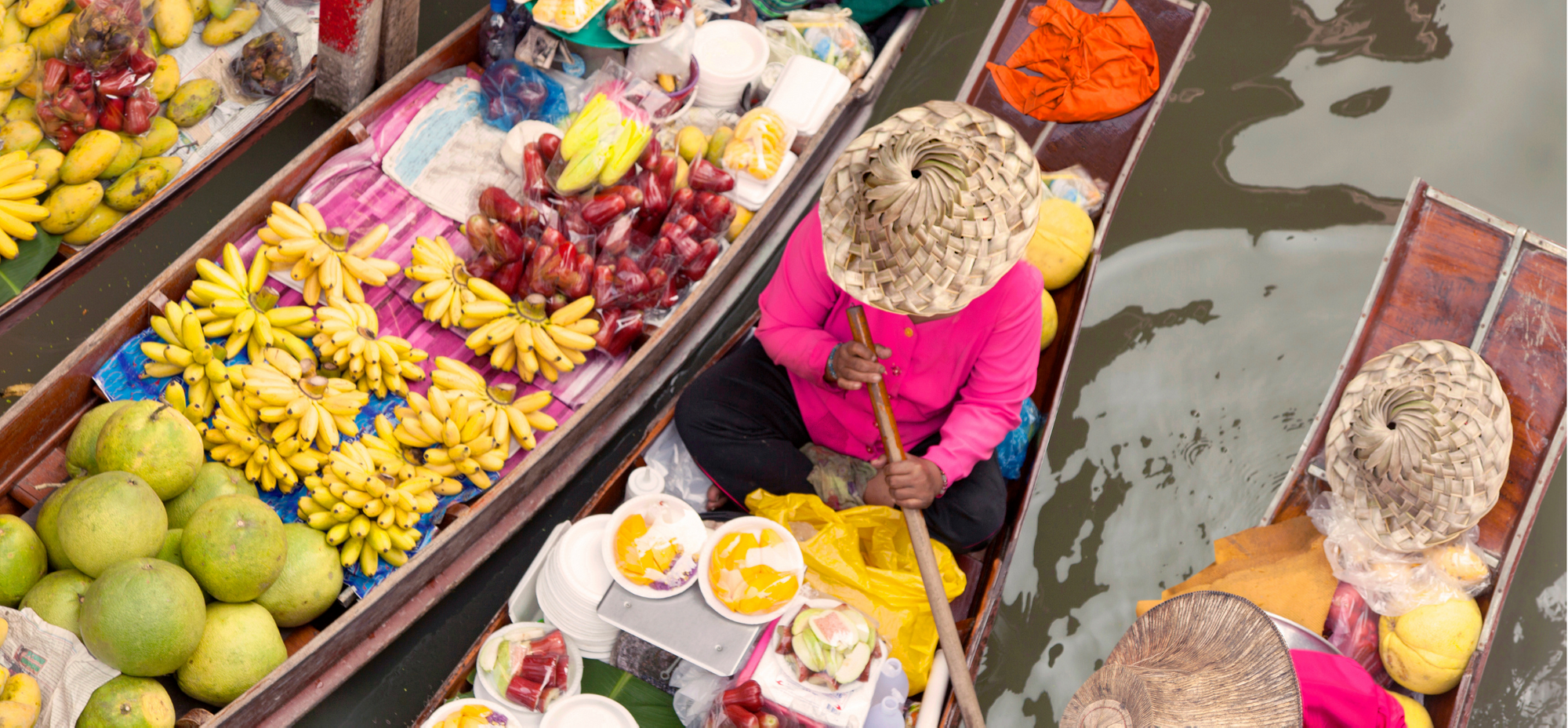 5. The Floating Markets: A new way to explore your city
Now I know we've mentioned markets before, but these are a whole different ball game. Extremely popular in Bangkok, the floating markets were originally used for everyday trade with locals but have recently become more tourist orientated. These markets are only really found in Thailand, Indonesia and Vietnam, so make sure to experience it whilst you're there.
There are many different floating markets to choose from, with the main one being Damnoen Saduak in Bangkok. Outside of this, they tend to be frequented by more locals. Try and find out the best times to visit your nearest floating market from a local friend, and even better if they can take you and show you around. Another option is to book a tour for the bigger markets, either way you can easily spend half a day bagging bargains and picking up some traditional Thai food, such as Som Tam or Guay Teow (make sure to try these!).
Did You Get All That?
Ok, that's a lot of information there! The best way to make the most of your time in Thailand is to pick and choose the best bits from other people's experiences, as well as get some recommendations from locals when you arrive in your city. One thing we love about Thailand is that there is no shortage of people willing to help a lost tourist – even if you just need help finding a new hangout spot. It isn't called the Land of Smiles for no reason.
If, like me, this list has got you ready to pack a bag and book the first flight to Thailand, don't hesitate to get in touch with us and organize your teaching placement. The first step to get you to that bustling nightlife and endless sightseeing is to sign up!
---
About the author