Here's a bit more info about the key dates to add to your calendar in the coming months, as you prepare for your journey to become a teacher in Asia.
But it's a journey you won't be on going on alone. There is a community of new Impact teachers in exactly the same boat as you, and our goal is to make you feel as connected to them as possible. Through these in-person and online meetings and events, but also our WhatsApp groups, we strive to put you in touch with your future colleagues – future friends. 
And all throughout your journey we will introduce alumni members who have lived and taught in all of the countries we offer programs. Their role is to provide training, offer advice, insight, and tell you the things you won't be able to find out about online. 
Excited? I know we are.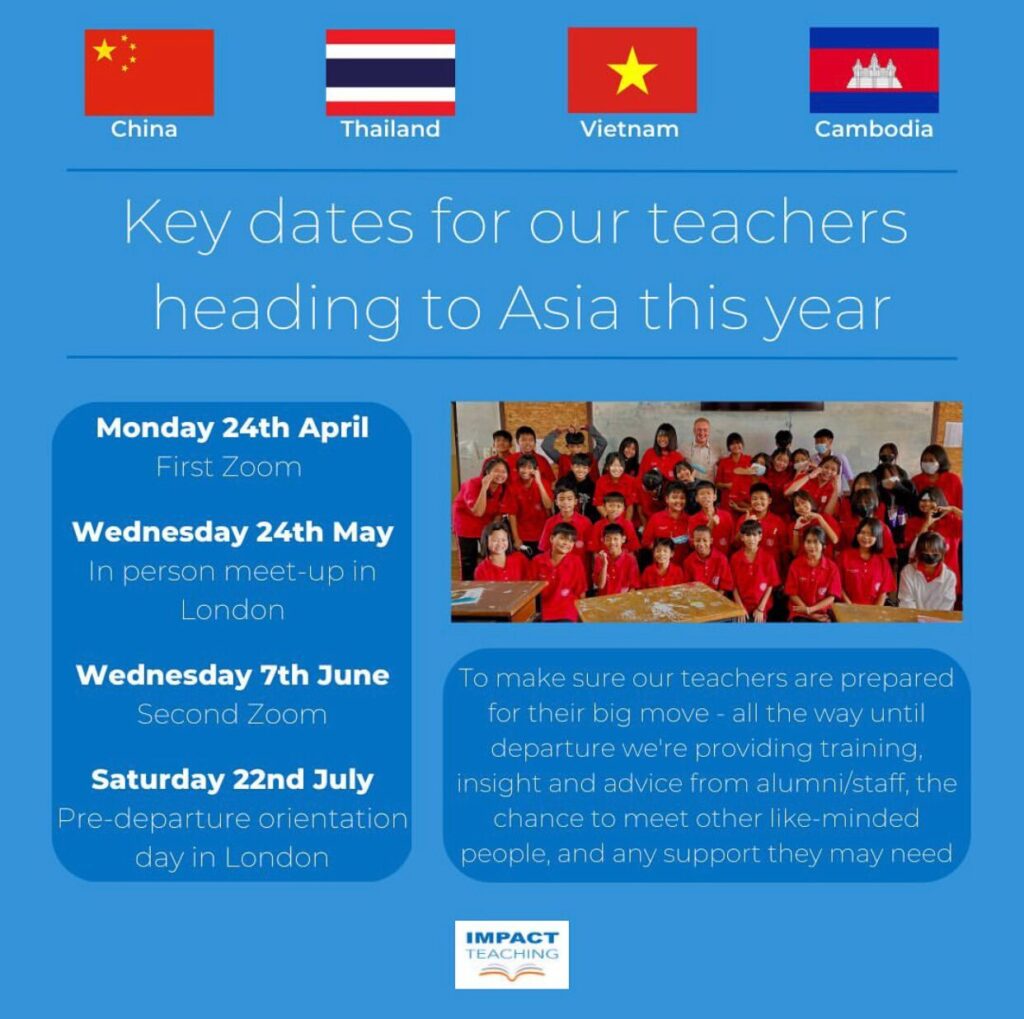 We can't wait to meet you. Your incredible experience starts with us. So let's go!
And if you do need any more information before our first meeting, anything at all, then don't hesitate to get in touch. Here's our email:
Monday 24th April (Zoom 1)
During this meeting we'll cover key information about moving to Asia and starting your teaching adventure. From navigating the language barrier to what to expect from teaching, the visa process, and much more. It's a great opportunity to have your burning questions answered, and to meet fellow candidates who you'll be sharing your exciting journey with.
Wednesday 24th May (in-person meetup – London)
This event is our first chance to meet in-person, and it's always great fun. You'll meet other likeminded new teachers who are also heading east. And some of our alumni will be there to answer any questions, offer insight, and useful advice to help in any way they can.
Wednesday 7th June (Zoom 2)
This online session will focus mainly on teaching, to prepare you as much as possible for your new job. We'll discuss classroom management techniques, games, and offer general teaching tips and advice. And we'll be joined by some of our ex-teachers who have been in the classroom as recently as last year, to give you fresh and relevant insight.
Saturday 22nd July (in-person orientation day – London)
This date is the one in the calendar that we always look forward to. It's a full and action packed day in central London. They'll be pre-departure info, teacher training, and the chance to get to know your fellow teachers who may be in the same country, city, or even the same school as you. It's a fantastic day that will leave you feeling excited, prepared, and ready to start your adventure. And to cap it all off we'll head to the pub for a few drinks afterwards.