By Josh Butterworth , Teacher in Phetchabun, Thailand 
Thailand is renowned the world over for its fascinating culture, wonderful food and gorgeous weather. Temples, tuk-tuks and tigers spring to mind. But it's impossible to think about this beautiful country without the image of crystal-clear ocean and pristine beaches rolling into the forefront of one's imagination like gentle waves. And what makes a banging beach even better, a sexy sunset. With Myanmar to the north and Malaysia to the south, the west coast of Thailand on the Andaman Sea boasts some of the best beaches, islands and sunsets in the world. The only problem, there's too many to choose from. In this article I've attempted to paint a picture of and depict fairly my three favourite islands. Between them, I believe everyone and anyone can find their bliss on this gorgeous coastline.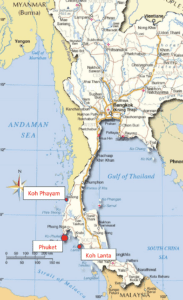 Phuket
As the largest island in Thailand, Phuket has a lot to live up to. Luckily, it doesn't disappoint. The beauty of Phuket with its lush mountains and stunning beaches is that it really does have something for everyone. From across the country and the world, all sorts of folk flock to its shores every year seeking a variety of experiences. If you've got cash to burn, then Phuket is one of the best places in Thailand to live in luxury. Yet at the same time it's very possible to enjoy it on a budget, with plenty of cheap accommodation and incredible street food. And don't forget the beaches, they're free. Those numerous stretches of sand beside the warm Andaman Sea are arguably the biggest factor in why people choose Phuket as their holiday destination. Most of those beaches are found on the west coast of the island, and they're all very different to satisfy every type of beach goer. But the two things they do all have in common are extreme beauty and sunsets that will leave you speechless. If partying is what you desire then Phuket is one of the liveliest places in Thailand, but peace and calm is also attainable away from the busier areas. The island is big enough to accommodate everyone. Unlike the rest of the country, Phuket has plenty of Western amenities, activities and food. But of course, there is Thai culture in abundance to soak up as well. For those interested in culture and history, Phuket has you covered. The island is also full of amazing nature and scenery, and it's a gateway to iconic places such as the Phi Phi islands and Phang Nga Bay. But despite everything Phuket has to offer, the one reason I keep going back is the food.
I feel blessed to have eaten in some pretty cool places. Brazil, Jamaica, the US, Europe, Dubai, Myanmar, Malaysia, Indonesia, Vietnam, China and of course Thailand. And I'm cautious to say this but here goes, I think Phuket could be up there fighting for top spot. The island has played host to several moments that will stay with me for the rest of my life, truly incredible tastes and textures, unlike anything I'd had before. We all know Thai cuisine is one of the most delicious on earth, but southern Thai cuisine really is special. Phuket is the perfect place to experience it all. As well as southern Thai cooking, food from the length and breadth of the country is made authentically and with love throughout. And the options don't stop at the huge variety of Thai food, cuisine from around the world is also available to satisfy locals and tourists alike. If so inclined, one could go for Chinese hot-pot one night, a curry the next followed by pizza on the third. Living in central Thailand where these foods either aren't available at all, or aren't done well, it's always exciting heading down to Phuket. Whatever you want to eat, you can find it there. Nonetheless, despite the plethora of options, it's always the exquisite Thai food that I fill my belly with every time I'm on Phuket. And you should be aware that the restaurants serving the top-quality authentic Thai food aren't located in the tourist areas or by the beach, they're found inland and will be full of Thais, not foreigners.
My top 5 restaurants on Phuket: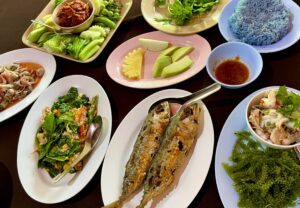 – Mor Mu Dong (favourite)
– The Charm Dining Gallery (fancy)
– ร้านอาหาร กล้วยไม้ไทย (homely)
– Roti Chaofa (breakfast)
– Krua Pailin (lunch)
Although I do have a lot of love for Phuket, it's not all rosy. Other than the steep prices relative to the rest of the country, there are a few parts of the island which aren't ideal and can lead to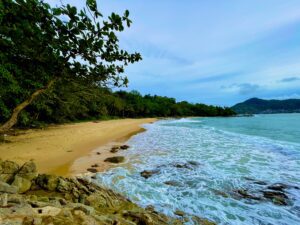 frustration. All the positives about it mean it's a very popular holiday destination, it therefore gets very busy. Despite a lack of tourism throughout the rest of the country compared to pre-Covid times, Phuket seems back to its busy best. Beaches are crowded, roads are packed and tourists are everywhere. If you want to get away from Westerners then Phuket might not be the best place for you. Luckily, it's large enough to find solace away from the hordes but effort must be made to achieve it. It's probably those same tourists that draw so many police to the island, police who can be unpleasant. Stopping people on mopeds searching for anything that warrants a fine, that often finds its way into their pockets. This could be driving without a helmet or mask, the incorrect drivers license, being under the influence of alcohol or possession of drugs. Or anything they can conjure up on the spot. This shouldn't deter you from coming but should be something to bear in mind if you do. More than anything else though, the part of Phuket that I find most uncomfortable is the sex tourism. It's clearly on display in Patong and Bangla Road. Despite appearances or what anyone says, money is king and the young women involved aren't always treated well. It's a strange and rather unfortunate phenomenon present throughout Thailand, but it's prevalent in Phuket more than most places. However, I still believe the positives about the island outweigh the negatives, and it really is a great place for a break. I'm confident anyone can find what they're looking for there and will really enjoy all Phuket has to offer.
Don't miss on Phuket:
– Big Buddha
– Old Town
– Promthep Cape
– Wat Chalong
– Sunday Market (Old Town)
Koh Lanta
Sitting south of Phuket in the province of Krabi lies the large island of Koh Lanta, the seventh largest in the country if you're interested. It's accessible by boat from Phuket and many other places, or a short ferry that holds cars at the north of the island. This little paradise offers beauty, charm and culture by the bucket load. Two large islands make up Koh Lanta, one in the north and the other in the south, connected by a large bridge. The southern island is where you'll find gorgeous beaches as well as accommodation and restaurants to suit every budget. The island is best explored on a moped, within an hour you can get from one end to the other. It's the perfect size. Predominantly Muslim, Koh Lanta is a great place to experience culture and to eat at markets and street food stalls. Ignoring locals speaking Thai and aromas of distinct cuisine, the island feels like it could be in Malaysia or Indonesia. As well as fascinating culture and plenty to fill your stomach with, Koh Lanta has some of the best beaches I've ever set foot on. Like Phuket they're all on the west coast, unlike Phuket they're quiet and peaceful. This was the case even before Covid. A few days on the island can transform someone who's stressed into someone who's tranquil and calm. The slow pace of life and local feel, beautiful landscape, beaches and nature are remedies for the pressures of life. But it's not all peace and quiet, there are some really cool bars on the island too. Cold beer in hand, sitting in a reggae bar on the beach with the sound of Bob Marley and the gentle evening waves soothing your ears as you watch an unbelievable sunset simply can't be beaten.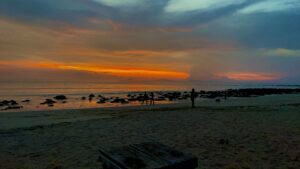 I've visited Koh Lanta twice, once in early 2020 before Covid and more recently in spring 2022. My first trip to the island was to somewhere teeming with life, it had a real buzz. My second trip was far quieter. The damaging effects of a lack of tourism were clear for all to see. It was a shell of its former self, a ghost town. The beautiful beaches and nature were still there, and arguably more pleasant with less people. The locals continued to go about their daily lives but the suffering caused massively reduced numbers of tourists was not nice to see. Many businesses were closed or empty and I didn't see a single restaurant or bar that was full or lively. I'm hopeful and optimistic it will return to its former glory as people from across the world begin to travel again. But for the moment, unless you're someone who really doesn't enjoy the company of others, then I suggest only planning a short stay on Koh Lanta. It pains me to say this because the island really is a special place. Its charm has been partially, temporarily taken from it. But it's still utterly beautiful. If you intend to visit then I suggest booking a few nights with flexibility to extend your stay. Just in case you accidently fall in love.
Best beaches on Koh Lanta
– Bamboo Beach
– Khlong Khlong
– Beautiful Beach
– Bakantiang Beach
– Nui Bay
What to do Koh Lanta (other than the beach)
– Strip of beach bars (on Khlong Khlong)
– Eat at Old Town (on East coast)
– Kayak to Ko Por (from Old Town)
– Visit Lanta Animal Welfare
– Explore Mu Ko Lanta national park
Koh Phayam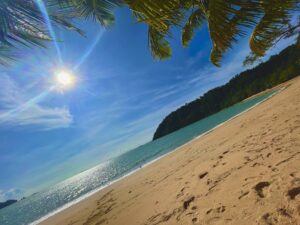 Not to be confused with Koh Phangan, Koh Phayam is a very small island off the coast of Ranong near the border with Myanmar. Not well known by any stretch of the imagination, Koh Phayam is a little utopia that I only discovered by looking on Google Maps and doing some research. After a short but stunning speed boat ride from the mainland, arriving on Koh Phayam feels as if you're stepping back in time to a Thailand before the hordes of tourists. Of course, the island does cater to the needs of foreigners, but on Koh Phayam they seem to be a different breed. You'll struggle to have an unpleasant encounter with anyone, locals and tourists alike are full of warmth and kindness. A large proportion of those foreigners on the island, non-Thais I mean, seem to be old hippies. Some own business and others are just on holiday, often their fiftieth visit since the 1970's. This creates a friendly and easygoing atmosphere that's echoed by the smiley locals, of whom a large majority are cashew nut farmers. There's a real synergy between everyone and it's great to be a part of. In my opinion, Koh Phayam has the best atmosphere of any tourist destination in Thailand, of the places I've visited at least. Both my times on the island were quiet, but that wasn't an issue. I met many wonderful people with whom I enjoyed many wonderful conversations. Quality over quantity sums up this wonderful tiny island.
The positives about this gorgeous island do not stop at the atmosphere. It's perfect mixture of amazing people, stunning beaches, jungle, wildlife, laidback vibes and serenity. That's why, in my eyes, Koh Phayam is the perfect getaway destination. Arguably the best, but in no doubt my favourite beach on earth is Ao Kao Kwai, Buffalo Bay. Watching the tangerine sunset erupt behind the jagged outlines of islands in the distance, Myanmar, as the nightly chorus of life echoes from the dark jungle behind, never gets old. Wait a few hours and look up to stars like you never have before, thousands upon thousands of them. A late-night swim, stars above and glowing algae vivid below gives the impression of a mirror reflecting back the universe, special doesn't really cut it. But this beach is only one of many on the island that all have the potential to become your new favourite. As well as beautiful humans and beaches, Koh Phayam is also home to incredible wildlife. Never before have I seen as many species of birds in one place. Eagles soar silhouetted through the clear blue sky above as you enjoy a warm afternoon dip, then vibrant Great Indian Hornbills escort you back home through the jungle from their position aloft in the trees. If you're hungry, leave the birds alone because there are plenty of wonderful places to eat. Not cheap, but utterly incredible, is the restaurant at Flower Power Resort. It's also a good place to stay. The owners are Italian but the staff are mostly from Myanmar. Fresh pasta, pizza, focaccia and much more is made fresh every day, the last thing you'd expect on this remote island. Their pizza is the most authentic I've eaten outside Italy and the Myanmar food is very delicious as well. And if you're thirsty then there are plenty of beachside bars too, including Hippy Bar on Buffalo Bay, possibly the most epic bar I've ever been to. It's difficult not to feel like Jack Sparrow as you sip a rum cocktail in the pirate ship made from driftwood looking out across the Andaman Sea.
My first and second trips to Koh Phayam were both in spring 2022, so I can't compare them to a pre-Covid experience. I unfortunately saw many closed businesses, empty restaurants, bars and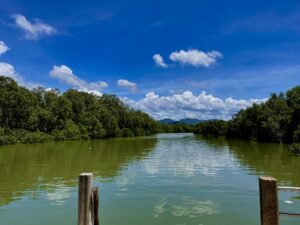 hotels. Despite not being a fan of too many tourists, or the wrong kind, I never enjoy seeing local people suffer because of a lack of them. However, in my opinion, the quietness on Koh Phayam did not negatively impact the atmosphere nearly as much as it did on Koh Lanta. I believe this is due to its size. Koh Lanta is a lot bigger and felt emptier. You would pass people on the bike and never see them again, whereas on Koh Phayam I was bumping into the same people over and over again – on the beach, in restaurants, in bars – both tourists and locals. I'm obsessed with this place and really think it was amazing as it was when I visited. It might be worse or better with more people but you'll have to find that out for yourself. If you're looking for somewhere to unwind, relax and let a few days slip into a few weeks, maybe more, then Koh Phayam is the place for you. People come for a short trip and only end up leaving three months later when their visa expires. Also, the island is relatively inexpensive considering its isolation, but there are places to cater for every budget. I really can't recommend Koh Phayam enough, coming to Thailand and not visiting would be a great shame. But do me a favour, don't tell everyone and their mother, let's keep this one between us.
Best beaches Koh Phayam
– Ao Kao Kwai (Buffalo Bay)
– Ao Kwang Peeb (Monkey Beach)
– Ao Yai (Long Beach)
– Hin Talu
– Ao Mook
What to do on Koh Phayam
– Drink on the beach at Buffalo Bay (Hippie Bar or Gold Key are the best)
– Eat Italian & Myanmar food at Flower Power Restaurant
– Enjoy great food & the view at Seaview Restaurant
– Kayak around the island and through the mangroves
– Taste fresh fruit and other produce from the island
From Ranong in the north to Satun in the south, you really can't go wrong on Thailand's western seaboard. Beautiful beaches and magical islands pepper the coastline. Looking out across the Andaman Sea as it turns into the Indian Ocean, unreal sunsets do their best to warm the hearts of everyone witnessing them. Phuket, Koh Lanta and Koh Phayam, all very different islands, are three of the best places to enjoy this wonderful part of the world. The three of them have more than enough to satisfy every type of traveler, tourist and visitor. Whatever you want to call yourself, wherever you end up, on the Andaman or far away, I hope you enjoy.
Ready to explore Thailand's west coast? Here's our Thailand program page, and you can submit an application here