By Josh Butterworth, Teacher in Phetchabun, Thailand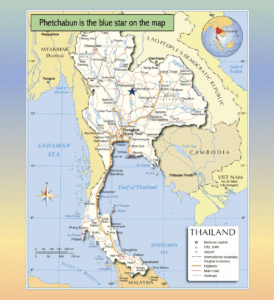 With living costs rising globally, Thailand remains one of the cheapest countries in the world to live in. Or does it? Having inhabited the central Thai province of Phetchabun for more than half a year now, I will share with you how much everything from rent and bills to beers and burgers set you back in the land of smiles. Then, you can be the judge…is the cost of living in Thailand a bargain or a burden?
As I mentioned, I live in Phetchabun, a town akin to many others across the country. Around a five-hour drive north of the capital, it is encompassed by the incredible mountain ranges of Khao Kho and Nam Nao national parks. The town itself has a distinct charm and is unique in many ways, yet also shares characteristics found in other rural towns of its size where agriculture contributes more significantly to the economy than any other industry. It also shares a similar cost of living with the rest of Thailand, bar Bangkok and tourist areas like Phuket and Chiang Mai. So, when I talk about the cost of living in Phetchabun, it is a fair representative of the country other than a few specific exceptions.
Rent
My girlfriend and I rent a three-bedroom bungalow in a place called Phet Chomphu Village, from which it takes around ten minutes to drive to the school where we work. Although it's called a village, Phet Chomphu is just a residential area within the town, off the main road that runs through Phetchabun. Relatively speaking, it is quite a wealthy area, and is very safe. Most of the community are in, or have retired from, professional careers such as teaching and the police. Our bungalow is perfect for us and our dog BaoBao, with plenty of space for him in and outside. There is a sheltered area to park a car and a yard that runs around the property. The size of our home is not something we were used to in the UK. Three individuals could easily share the bungalow, as long as two of them were willing to put up with a lack of air conditioning in their bedrooms, fans would be a necessity. The bungalow was unfurnished but our landlord provided us with a bed, sofa, coffee table, dining table, chairs, a fridge and a wardrobe. Each month, my girlfriend and I pay 6,000 baht in rent. That equates to around £140, roughly £70 each, less than 10% of our monthly salary. Compared to £825 a month we were paying in Manchester, it's not bad.
If you would like to watch a video tour of our home, please follow the link at the bottom of the article.
Setting up
Although our bungalow was not fully furnished when we moved in, we were lucky that our landlord provided some essentials at no extra cost. Paying for items such as a fridge, sofa and bed would set you back a fair bit, even in Thailand. Considering most foreign teachers don't plan on staying long term in whichever country they are in, having to spend a large amount of money on these items would be frustrating. I do also know of landlords who charge slightly higher rent to furnish a property, the fee is usually minimal and paid over a long period of time. Other items that are needed for around the house can be found in shops like Big C (picture above) and Tesco Lotus for a similar price to what they would cost in the UK, slightly cheaper if anything. Kitting out the kitchen was by far the most expensive room. Ovens are not traditionally used in Thai cooking and you'll rarely find a kitchen with one, Thai kitchens are also unlikely to come with a stove. This is because most people cook outside on a wok using a gas burner, to avoid pungent smells and smoke in their home. Buying a small stove, a kettle and other items that we use to cook, was not cheap, but is a necessity. Money must be spent setting up a new home, but it can either be reasonably priced or expensive, it just depends on who is doing the shopping.
Bills
Speaking to friends and family back in the UK, grumblings about rising water and energy costs are worrying. In Thailand, we have also noticed the price of bills increasing, but not quite as dramatically. At the moment, our energy bill is between 1,200 and 1,500 baht a month. Last month we paid 1,300 baht, roughly £30. Even though we're not using energy for heating, the air conditioning is on all night and the fan is on anytime we're home. Split between my girlfriend and I, £15 a month each is very doable. As for water, it usually costs under 80 baht a month, less that £2. However, the tap water isn't drinkable in Thailand. Bottled water is available in shops and there are fountains near populated areas, charging around 2p per litre. Our WIFI has good speeds and only costs just over 400 baht a month, roughly £10. My phone contract is 300 baht a month, about £7, but I'm not on the best deal. For an extra few pounds, you could get unlimited data, calls and texts with 5G. In total, my half of the bills and my phone contract cost me just over £40 a month.
Transport
Having the ability to get from A to B is essential wherever you are. In Thailand, devoid of reliable public transport in most places other than Bangkok, mopeds are the preferred mode of transport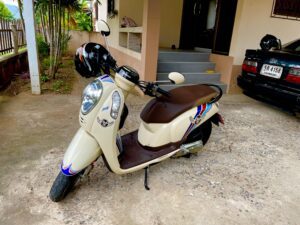 for the masses. Although a lot of Thais do have cars, I would advise anyone against buying or renting one, unless they can afford the steep prices. The market in Thailand is such that even cars in their senior years, with questionable quality, are still very expensive. My girlfriend and I bought an old motor for north of £1,000, that would have cost half that in the UK.  We've subsequently spent hundreds more on petrol and repairs, but to travel with our dog during the long holiday, it was a necessity. So far, it hasn't let us down. If spending a small fortune on a car doesn't sound good, then a moped is the next best option, and an abundance of them means they aren't particularly expensive. We rent a moped for 2,000 baht a month, just under £50. Although it might work out cheaper to buy one and sell it on in the future, renting means any possible issues or repairs are sorted by the person you rent from. Fully fuelling a moped costs around 150 baht, under £4. In total, petrol for a week of moderate use shouldn't cost more than £10. But mopeds are not a good way to travel long distances, busses are a better option, and are very cheap. A coach from Phetchabun to Bangkok only costs slightly over £5.
Food & essentials
The cost of eating out in Thailand has the potential to convince any foodie it is a place they might want to live. At street food stalls, markets and in restaurants, it's easy to find an incredibly delicious meal or snack for under £1. However, Thai food in Thailand isn't what people are used to from their local restaurant or takeaway, it is far better. Not only is it full of unique flavours and textures, but it's also very cheap and full of variety. Eating out for breakfast, lunch and dinner, for less than £5, is not a challenge. Sometimes though, it is nice to have a break from all the chilies and fish sauce. Western food is available to a certain extent, but it's expensive, at least compared to Thai food. A meal at KFC will set you back around £5, a decent restaurant burger and chips costs slightly more, and a pizza will damage the funds to the tune of around £10. Western, Thai and other cuisines are also available from delivery apps such as Food Panda and Grab, their prices are slightly higher but not significantly.
With the price of eating out and ordering in being so cheap, it could be tempting never to set foot in the kitchen. However, I do still love to cook, and in the long term, I believe that home cooked food is not only marginally better for your wallet, but also significantly better for your health. Shopping in Thai supermarkets is generally cheaper than in the UK, but not always. Foreign products like cheese or kimchi can turn a cheap shop into an expensive one. Our weekly shop can easily cost between 1,500 and 2,000 baht, £35 to £45, to feed two hungry people and a dog. Shopping at markets would be more financially savvy, but I never seem to get around to it. By cooking the majority of the time, mostly avoiding expensive Western food and ingredients, only eating out at cheap Thai restaurants every so often, limiting the amount of Food Panda deliveries and snacks runs from 7/11, I estimate I spend just over £100 a month on food. Factoring in the cost of household essentials and toiletries, the total rises to around £125.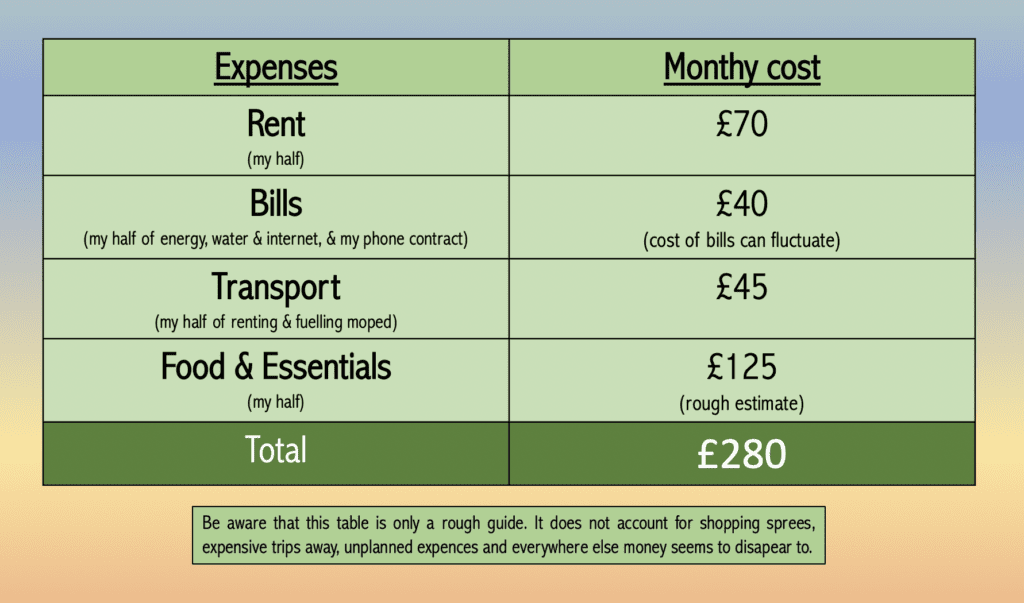 Alcohol
Most of Thailand, other than Bangkok and tourist areas, are not blessed with a great variety of alcohol options. Thai beer and whisky can be found in almost every bar, restaurant and shop throughout the country, but there isn't usually a whole lot else. A big bottle of beer such as Leo, Chang or Singha can cost anywhere between £1 and £2, in shops and bars. Draft beer is a rarity. Thai whisky, like SangSom and Blend, is also a very popular choice and only costs around £6 for a medium bottle. The locals enjoy it with soda water and a lot of ice. For those with sweeter teeth, who aren't fans of beer or whisky, other drinks like Korean soju and wine coolers such as Spy are available in most shops. Surprisingly, drinking in bars and restaurants isn't actually much more expensive than the cost of alcohol from in shops. In Bangkok and tourist areas, this is unfortunately not the case. I have reluctantly forked out more than £5 for a small bottle of beer in a fancy Bangkok bar.
Conclusion
Thailand is a wonderful country, and there is no doubt it is a cheaper place to live than the UK, Europe and the US. But it's also worth remembering that despite the relatively cheap cost of living, many people throughout the country do not get paid much at all. The minimum wage for a day of work is around 330 baht, just over £7.50 Considering that the minimum wage for one hour of work in the UK is more than that, the cost of living in Thailand starts to make more sense. As foreign teachers, we are very lucky, and often get paid more than Thai teachers who have greater responsibilities and duty. My salary is around £750 a month, it more than covers all of my outgoings. It also massively helps that I share the cost of most things with my girlfriend. Life, however, does not usually pan out like you planned it. Extra costs pop up all the time, just as they would wherever you may be. Saving is a good idea, and is possible, but becomes a lot more difficult when taking weekend trips or saving for a big holiday. Anyone who comes to this beautiful country, comes to explore. Thankfully, it is very possible to do so on an ESL teacher's salary, whilst simultaneously living a good life. However, combining it with saving is not as compatible as I'd hoped it would be. If you are interested in the best ways to save money whilst living a good life in Thailand, then keep an eye out for my next article, in which I will share with you how you can afford to live well, travel and save.
Would you like to teach English in Thailand?  Explore our program page or submit an application