By Ken, Teacher in Warsaw
Dzień dobry wszystkim! 
So unless you want to live rough on the streets of Poland you'll of course want to find a place to live. Needless to say (but I'll say it anyway), if you're looking for a flat in Warsaw it will be much more expensive than anywhere else in Poland as it's the capital city. With that being said, what are good sites to use to search for a flat? Let's have a look at some options, shall we?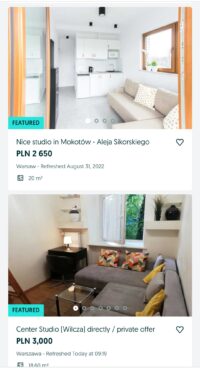 OLX
OLX is one of the most commonly used apps in Poland and is used for advertising all sorts of things for sale. Highly recommended! The name comes from the shortened version of "online exchange" and it's where I found my "kawalerka" (studio apartment) that I currently stay in. It is a platform visited by over 12 million users a month, so you are (almost) certain to find what you are looking for! You can either use the app, or use the website instead. As far as I could tell, the app itself  is entirely in Polish and there isn't an English option. But here are some phrases you might come across:
Mieskanie – Apartment
Czynsz – Rent        
Kaucja – Deposit
Bez prowizji – Without commission (if you go through an estate agent and /or rental companies they will more than likely charge commission for the rental contract)
Nowoczesny – Modern 
Wygodny – Comfortable
Blisko – Near, Close to -> Blisko parku – Near the park 
There is a vast selection of flats on here to suit every budget, so if you don't mind having to translate everything this is probably your best bet of finding a flat.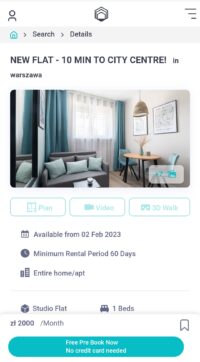 Pepehousing
Pepehousing is another good option that also gives options to students and working professionals. It offers flats in all of the major cities in Poland, including Gdansk, Krakow and Lodz. It is a very easy-to-use website with a nice layout, and you also have the option of using filters to find your ideal flat. It doesn't have as many options as OLX, however it is still a strong recommendation. Once you have found your flat, you have the option of paying the deposit and the rent without seeing the flat, so it's super handy if you need a flat straight away after moving from your home country.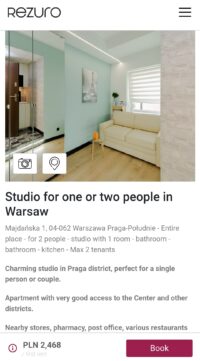 Rezuro
This is where I found my first flat! Rezuro also offers the chance to pay the deposit and rent without seeing the flat. The flats are checked before you move in, so you shouldn't have anything to worry about HOWEVER you do this at your own risk! I would always recommend seeing the flat in person before moving in but of course this isn't always possible. An advantage of Rezuro also is that everything is in English and there are also flats you can rent without paying a deposit. Super handy if you are cash-strapped and you need a flat ASAP! Rezuro is the only place that I saw that offered flats without a mandatory deposit, so if you don't have much money before you start your new job, this is the place for you! If you are lucky, you might also find cheap/no deposit flats on Facebook Groups, such as "Accommodation in Warsaw". 
Special mention to Otodom as well, which is a website that offers a great selection of flats  all over Poland however I'd say they are a bit more expensive than other sites. Of course, there's always the ever popular AirBnB that you can stay in before you move in to your new apartment. Again, they tend to be more expensive than your average Polish flat.
But remember the golden rule…….
If it's too good to be true, it is most likely a scam.
If you are planning on getting a studio apartment around the centre of Warsaw be prepared to pay around 2500-3000pln per month, including bills. Since the Ukraine War things have gone up and rentals are no exception. However, if you're savvy you can get one for less, but in my experience anything below 2000pln is a scam, or a really old flat. If you don't mind sharing a flat you can easily get one for cheaper. 
If anyone asks you to pay upfront for a flat viewing, DO NOT DO IT! A common scam is when a "company" asks you to pay for their services, with the promise that they will find you a flat. Of course, they take your money and never find you a flat.
And finally…….
Apartments tend to go very quickly in Poland. It's even possible to move in to a new apartment the next day. So don't apply for a flat viewing if you're not looking to move in within 2-3 weeks. Any more than 3 weeks and your inquiry will likely be ignored. Oh, and also flats tend to be small, so if you're from a big house you might be in for a surprise!
And good luck in your searches! 
So if that has made you feel like finding a new place to call home,  why not apply?