What is the Lunar New Year, and how is it celebrated in China?
You may already know, but in China the Lunar New Year is referred to as Chinese New Year, and sometimes also known as the Spring Festival. The holiday celebrates the second new moon rising after the winter solstice, which this year falls on February 1st, 2022. For Chinese citizens, this symbolises the beginning of the Year of the Tiger, a year of strength and bravery.
Families get together to celebrate the Chinese New Year, with it being one of the biggest holidays in China. Workers get two weeks off, and many will travel far across the country to reunite with family. This time at home is spent decorating and preparing for the festivities of New Year's Eve and New Year's Day. Red (红) is considered a lucky colour in Chinese culture, so many of the decorations are red, as well as elders giving children red envelopes (红包) containing money to give them good luck for the coming year! The holiday is also marked with plenty of firecrackers and fireworks, to start the new year with a bang, and to scare away evil.
Perhaps most importantly, the food plays a key role in bringing in the Chinese New Year. The family feast can consist of fish (鱼), for prosperity, dumplings (饺子), for wealth, tangyuan (汤圆), for family relationships, and noodles (长寿面), for longevity. Eating these foods, amongst many others, is believed to bring luck and other desirable qualities. It is commonplace in Chinese households all over the world at this time of year.
But, is it celebrated in other Asian Countries?
Although China refers to the holiday as Chinese New Year, it is still celebrated in some other Asian countries such as Thailand, Vietnam and Cambodia; however, needless to say, they refer to it a little differently. For similar reasons, the Chinese Zodiac is referred to as the Lunar Zodiac for many other countries. For all celebrating the lunar new year, the traditions and customs centre around bringing in good luck for the coming year, so the countries share many similar celebrations.
In Vietnam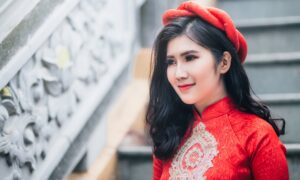 The Lunar New Year is called Tet here, short for Tet Nguyên Đán; however, there are many similarities with the Chinese New Year. The most important holiday and busiest time of the year for Vietnamese people, you'll find family reunions also play a key role in Tet celebrations. Other customs and traditions involve visiting friend's houses on New Year's Day (xông nhà) and acts of worship at temples, as well as gifting money to both children and your elders. Here, as well as in China, Tet marks the beginning of Spring, so it is often also called Spring festival (Hôi xuân).
As well as bringing in good fortune from sporting the colour red, yellow is also considered a lucky colour in Vietnamese culture, so these colours are everywhere over the Tet period. To help their chances of good luck and fortune in the new year, Vietnamese people will set an example of upstanding and friendly behaviour for the beginning of New Year's Day, as they believe this will help determine the luck and prosperity of the coming year. Superstition is rife at the turn of the new year, as people believe they are setting the tone for the days to come, so it is common to avoid activities such as sweeping or cutting, as these can be seen as removing good luck from your life.
One of the most important traditions is who first enters your house in the new year. Again, this can set a positive or negative tone for the rest of the year! People will try and invite someone who will bring good luck into their home, and avoid anyone that might bring in bad luck. Often, this means inviting a successful family friend over on the day of the new year.
In Thailand and Cambodia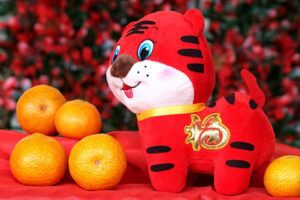 As family is central to celebrations in lots of Asian cultures, the most important thing in Thailand and Cambodia is to be surrounded by family and loved ones to celebrate the end of one year and the beginning of another. As well as red envelopes (ang pao), Thai people will also offer oranges to their relatives to wish them a happy lunar new year. In Cambodia, they have their own new year (Khmer New Year), so the lunar new year isn't recognised as an official holiday; however, they still celebrate the lunar new year, and will decorate their homes with yellow flowers (Angkea Sel) to attract luck and good fortune for the coming year!
How are you celebrating the Lunar New Year?
Eastern Asian families all over the world will be celebrating the lunar new year on February 1st, 2022, whether they're in New York, London or Moscow. It's a joyful and exciting time for families to celebrate a new beginning and bring in luck for their families through traditions and feasts. Even in countries that don't recognise it as a national holiday, the Lunar New Year can have a magical feel to it, and getting involved with the celebrations can be a truly wonderful experience!
Whether it's a feast with friends or a deep clean to start the new year on the right foot, we'd love to hear which traditions you follow and what makes the Lunar New Year important to you! Let us know in the comments so we can celebrate together, until then: 新年快乐, chúc mừng năm mới, สวัสดีปีใหม่, and sursedey chnam thmey!
Would you like to teach English in China, Vietnam, Thailand or Cambodia? Hop on over to our application form to tell us. Or, if you're still not sure, drop us a message; we're here to help.
---
About the author