By Rhianna Varney, Teacher in Warsaw, Poland
I have been living in Warsaw for nearly three months now and I have definitely learned a lot. I have had many great experiences in the city, however, moving to a brand new city where you don't know anyone can have its challenges. Here are a few tips on making friends when moving abroad.
Colleagues
The first place is where you work. If you are an English teacher like me, then the chances are you will be working at a school with lots of other expats. At my school there are people from all over the world, so I have really enjoyed getting to know more about different countries. With the other workers being expats, most of them have also been in similar positions to me, so it has been easy to find things in common. We have been for drinks together and also went bowling once. The best way to move from just seeing them at school to knowing them better is to just ask them if they want to do something at the weekend or something. Or chat to them more, and see what kinds of things they are interested in, to see if you have a similar hobby you could do together. There are a few teachers at my school who want to learn Polish more, so we are thinking of joining a Polish class together.
The Internet
Another place is the Internet. I often remind myself of how lucky I am to be alive in the time of the internet, with google maps, uber eats and social media. There are many Facebook groups for people in Warsaw, with one of them being the expats in Warsaw page. There is often a lot of information on the page for people new to the city, like the best place to find English-language books or the best cinemas, restaurants and other things. There are also posts about meetups, which can be a great place to meet other expats.
Here is a list of a few Facebook pages I have found useful:
Expats in Warsaw
English Teachers of Warsaw
Foreigners in Warsaw
Shared Housing
I have also found it nice to live in a shared house. I found my room on Pepehousing, which is a service that provides rooms to rent for expats and students and as a consequence my housemates are mostly expats as well, which has been nice, as we are all in similar positions. They are from lots of different countries as well, so Peru, Ukraine and Belarus. They are all studying in Warsaw, so are around my age, which has been nice. As we are all new to the city, we have a lot in common.
Groups
Although I have personally not joined many groups, joining groups can be another way of making friends. I think in the time of covid it can be slightly harder, but there are still groups out there. If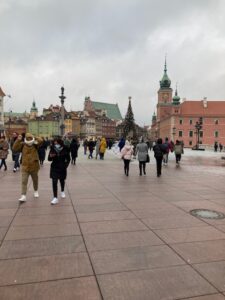 you are interested in something, it would be a good idea to try and find a group for that hobby, as then you will find people with similar interests to you. I have found some good Polish Lesson groups, which would be good if you are hoping to learn more of the language. On the Expats in Warsaw Facebook page there are also lots of mentions of groups. One I thought sounded particularly good was an English-speaking book club, as this would be a good way to chat to other English speakers.
Out and About
You might also find you meet people out and about. The other day I went out with a friend and we met some other English people and spent the evening with them. I think a good piece of advice in making friends abroad is to not be afraid to talk to people. If you want to message someone, message them. If you see a group of expats, don't be afraid to introduce yourself. Usually, people love meeting new people, so don't be afraid to put yourself out there.
I think moving abroad can be scary for quite a few reasons and one of them is how you are away from your friends and family. It can be a little lonely at times. I have found that it did take me a while to fully settle in, and somedays I do feel a little homesick, but making friends does make it easier. However, don't feel bad if you don't make friends immediately. These things can take some time. However, if you are in a big city, the chances are there are many people like you hoping to make more friends too.
Is Poland the place for you? Hop on over to our application form to tell us. Or, if you're still not sure, drop us a message; we're here to help.
Do you want to be the first to hear the latest news on all things teaching in Poland? Subscribe for our mailing list.