By Jodie White, moving to Thailand to teach in Chiang Rai
While it may seem like travelling has never been more difficult than in the current climate of Covid-19, this in no way means that travel is impossible. My decision to move to Thailand was quite a last minute one. After a year of delays to my original plans of moving to China, I was faced with a choice between continued uncertainty and overhauling my plans entirely to go to Thailand. It was strangely an easy decision; I could finally be traveling again within just a few weeks of receiving a job offer.
Of course, making such a last minute decision meant the experience would be somewhat different to how I imagined it would have been had I made it to China. On the one hand, I felt a lot less prepared. I have no knowledge of the Thai language and have had hardly any time to research the city I will be living in for the next year of my life. On the other hand, I feel oddly more relaxed. I am going into this experience with a completely open mind. Nevertheless, that does not mean I have no expectations at all.
Expectations for Thailand
My excitement for moving abroad has unsurprisingly led to hours of googling Thailand and its culture. Known for its hot weather, beautiful beaches and bustling cities, I think I will be in for a shock when I arrive in the place that I will be spending most of my time: Chiang Rai. A reasonably quiet city located in the mountainous region of the north, Chiang Rai seems like it will be worlds away from what I expect when I think of Thailand. Nonetheless, I am looking forward to experiencing what is perhaps a slower pace of life.
Despite my attempts to go into this adventure with little expectations, there is one aspect where I can't help but have high expectations; the friendliness of the Thai people. With Thailand often being referred to as 'The Land of Smiles', the Thai people have a reputation for being happy, friendly and welcoming to foreigners. This fills me with comfort. I am sure that the difference between the people in Thailand compared to Britain will be astounding and I'm really looking forward to living somewhere where the people are helpful, hospitable and accepting.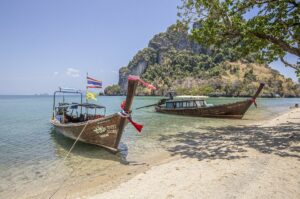 My Plans While in Thailand
It's pretty difficult to make a lot of plans within only a couple of weeks, so I'm expecting my to-do list to expand significantly while I'm in Thailand. Of course, the extent to which plans will be feasible is likely to change in line with Covid-19 restrictions. This is especially so for international travel. With Thailand being so conveniently located near many other amazing countries, it would be wonderful if I were able to make the most of this and manage to take trips to Laos, Cambodia and Vietnam. However, I won't be too disappointed if this isn't possible; after all, there are so many places to visit within Thailand itself.
One thing that I'm really looking forward to is seeing the Golden Triangle. Located within Chiang Rai, it's the place where Thailand, Myanmar and Laos meet. If I can't actually visit these countries, this is the next best thing. In addition, no trip to Thailand could be complete without experiencing its capital: Bangkok. One of the most popular tourist destinations in the world, Bangkok is famous for its nightlife. I'm really excited to experience the contrast between the loud and bustling streets of Bangkok compared to the quieter streets of Chiang Rai.
Finally, I'm really keen to do some island hopping while in Thailand. What better way to spend the summer holidays than exploring some of the most beautiful islands in the world? With plenty of opportunities for snorkelling, I'm planning to travel to many different beaches by long-tail boats. As I'll be spending two weeks in Phuket when I first arrive in Thailand, I can begin my island hopping adventures immediately.
Preparations for Leaving
Of course, such a great adventure could not be possible without at least some preparation. Despite Thailand being one of the easier countries to move to within Covid times, there were still some extra hoops to jump through. Aside from the usual processes involved, such as obtaining a valid visa, Thailand has now introduced the requirement of a Certificate of Entry and insurance covering Covid-19. All in all, it was probably slightly more expensive to get out to Thailand, but the process wasn't too difficult. Given the short time frame I had to get everything sorted, I was expecting an extremely stressful process. However, I was pleasantly surprised. With my flight tomorrow, I have felt unexpectedly relaxed throughout the entire process.
Perhaps the most difficult part was packing. I have a tendency to overpack anyway, but this is exacerbated by the fact that I am going for a whole year! It has taken me a few days of packing and unpacking to finally get everything to fit into one suitcase, but now I can breathe a sigh of relief. The feeling of being completely ready to move abroad after so many obstacles is slightly overwhelming, but I know it will all be worth it once I'm there.
The next step? Learn more about our Thailand program or send in an application if you're ready to take the leap.