Not only important for the foundational years of children's development, but also to educate and inform foreigners about important traditions and key values held by a nation, the best-selling children's books of any given country can reveal a lot about the readers.
But, what do the best-selling books say about Poland? Let's find out together.
The adventures of King Matt the First, Henryk Goldzmit
Polish name: Król Maciuś Pierwszy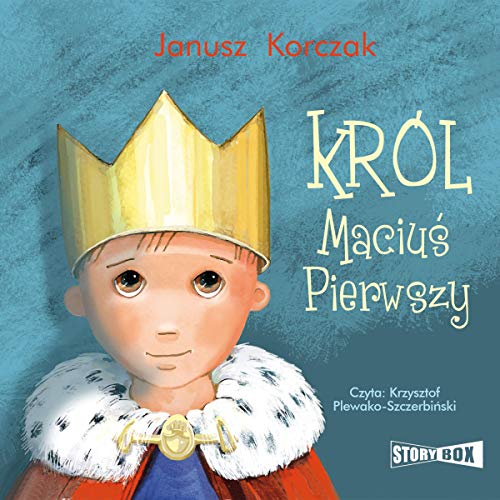 An author and educator, Janusz Korczak (also known as Henryk Goldzmit) wrote the incredibly popular children's book: 'The adventures of King Matt the First'. His stories not only entertain the young audience, but educate them, too.  These stories deal with many issues that children might face in the modern world, as well as helping them find ways to express their own emotions and feelings. The adventures of King Matt the First is one of a series of popular books by the author.
As well as being popular amongst avid readers, and therefore often part of reading for pleasure, the books also feature in some primary school curriculums. Children in the fourth grade, aged 9-10, may do a class reading of the book whilst discussing and tackling some of the major themes together. The content focuses on delivering a fairytale story with a protagonist who encounters many dilemmas that are sometimes presented in adult life, such as controlling anger and sickness of a parent.
The story can be summarised as a sensitive, well-intentioned young boy becoming king at an early age due to the death of his father, which leads to unrealistic decision making and angering of others. The decisions he makes, to make life better for his people, are undermined by reality, and the consequences are often serious. Tackling death, corruption, fake news, crime, human rights and racial incidents, our prince finds himself eventually exiled from his home by invaders and living on a desert island, which nicely sets up the sequel book: 'Little King Matty and the Desert Island'. The moral of the story is that although it is not always possible to do the right thing for everyone, it is important to try. Readers can emphasise the good intentions of the king and the pain he feels when things go wrong, as well as root for him when he tries to do good for his kingdom. Teaching this book in schools allows children to confront these difficult subjects and develop empathy, and gives children a chance to reflect on their own decision-making, making it a very popular read.
Whilst this book tackles several issues effectively and helps equip children for dealing with their own personal dilemmas, it's worth noting that the book was first published in 1923, and therefore some of the references are now inappropriate and outdated. Although the book depicts a positive interracial relationship between our protagonist and a black African princess, there are still offensive stereotypes present, which can be unpicked when teaching the book in a classroom. Despite this, the book has also proved popular outside of Poland, and was the first of Goldzmit's books to be translated and published in English.
O rety! Nature, Tomasz Samojilik
Have you heard of Białowieża Primeval Forest? Well, for our young Polish audience, they will know the forest as one of the oldest natural habitats in the world, as well as the home of the popular Polish icon – the bison! Samojilik is not only a children's author, but also a scientific researcher at the Mammal Research Institute for the Polish academy of Sciences in Białowieża (gosh, that's a mouthful!). He combines his work as a scientist and a writer to produce informative and compelling stories. The main theme in his stories is nature, and the importance of being informed about the world surrounding us.
O rety! Nature is one of his most popular books, but there are many other best-sellers, such as his most recent story 'Tarmosia'.  The story focuses on a family of badgers that build a home, which is infiltrated by other wildlife. Whilst these badgers are not eager to share their home, the tables turn and they're forced to leave their den when other factors intervene. The story has a moral about sharing and caring for others, as well as informing people about the homes and habits of badgers.
On top of all of this success, his series about a bison, called Żubr Pompik, is now a cartoon series, to further continue educating the young minds of the future about their environment!
Locomotive, Julian Tuwim
Co-founder of the Skamander group of experimental poets, Polish poet Tuwim produced a book of three imaginative and entertaining poems in the 1930s, 'Locomotive', 'The Bird's Broadcast' and 'The Turnip'. The stories are fun and designed to peak children's curiosity. What is in each train carriage? How to get a turnip out of the ground? Do birds hold secret meetings? Alongside the rich imagery created by the language choices, each poem was beautifully illustrated by popular illustration duo Lewitt and Him. The combination of words and illustrations proved Locomotive to be incredibly popular with children of the 1930s, as well as each generation since then.
Countless blog posts online refer to their childhood being enriched by the catchy and memorable words of Tuwim, one user writes 'And one of the most iconic, most famous, most beloved children's poems in Polish literature is an ode to a steam train. The Locomotive, written by Julian Tuwim, is catchy, quotable and a veritable masterpiece of rhythm.'. Not only is his work thought of so highly, but many Poles will be able to tell you facts about the famous poet that they learnt at home or school. His hometown, Łódź, celebrates his birthday even now, nearly 60 years after his death.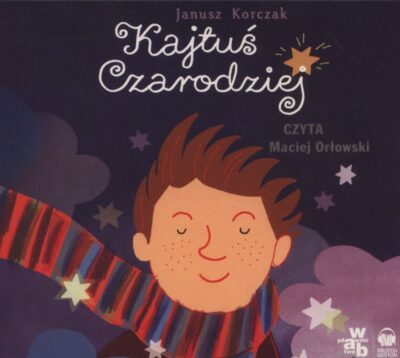 Kaytek the Wizard, Henryk Goldzmit
Polish name: Kajtuś Czarodziej
Goldzmit writes 'a happy ending is not guaranteed', and part of the process of growing up is learning about consequences and feelings of guilt, anger and remorse. The reader watches our Wizard grow up and learn more about his responsibilities, whilst also dealing with everyday problems. Children can observe the difficult decisions Kaytek makes, as well as compare this with their own judgement and risk assessment. The major theme throughout is growing up and choosing a path of goodness or negativity – which one will our young minds choose?
Famed sociologist and writer Kinga Dunin refers to comparisons between Kaytek the Wizard and J.K. Rowling's Harry Potter; however, she makes the bold claim that it is perhaps even more beneficial for our young audiences, as we observe rapid and crucial character growth of the protagonist, and learn a lot as the story progresses. Although there is a lot for children to gain from this book, there are several outdated and offensive references about gender and race, which can be explored and rectified in a classroom.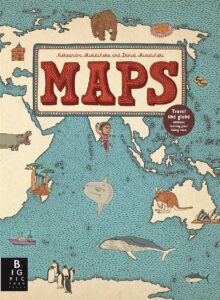 Maps, Aleksandra and Daniel Mizielinski
Polish name: Mapy 
Power couple Aleksandra and Daniel Mizielinski are one of the most popular modern author duos in Poland. Their books are now published in an astonishing 43 different languages all over the world, as their bright colours and modern style has proved to be popular with audiences everywhere. In fact, the popular designs of the books have now been developed into jigsaw puzzles, too!
One of their biggest successes is their book Maps. The educational book shows 51 intricately illustrated maps of 6 continents, focusing on 42 countries. Within each map, a child will find between 90-120 smaller, incredibly detailed illustrations of animals, traditional dishes, interesting facts, cultural remarks, plants, landmarks and even more. The book aims to educate the Polish youth about their own culture, as well as the cultures and geography of other countries and communities. Not only is Maps famous for being engaging to read, but it has proved to writers everywhere that the non-fiction market is much more than previously imagined.
So, what does all this mean?
At Impact, we want to know as much as possible about our placement countries, from lifestyle, to education system and even what the kids are reading. Learning about the children we're teaching helps us know how to better deliver information, and we can see what engages and excites our students. Whether it's a class book discussion or reading for pleasure, remember the names of these books for when your class starts talking about them… but first, let's get you into the classroom!
---
About the author