By Amy McCadden, Teacher in Phetchabun, Thailand 
Thailand is known for many things, like it's good food, impeccable people skills, and less than impeccable illnesses. We've all had the momentary ecstasy of meat on a stick from a suspect street stall, only to have that full belly turn into a Bangkok belly. It's not a trip to Thailand without it, I can assure you. If you've experienced an injury or illness abroad, you will understand how stressful the situation can be. Though most of your time living in Thailand is more like to a never-ending holiday, it is important to know what to do and where to go in a tight spot.
The Private Hospital System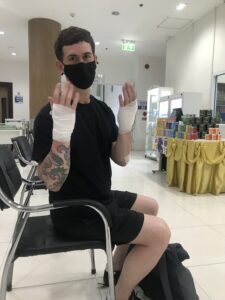 While The Land of Smile's food-related bowel issues are enough to cause a frown, you will be pleased to know that its hospitals rank among the sixth best in the world, offering a range of government and private healthcare facilities. I was first introduced to the private system after my boyfriend and I fell off our bike, as if we were competing in a giant (and deadly) game of curling. No winners that time, but plenty of entertained onlookers.  As embarrassing as it was, it wasn't serious (apart from soreness, bruised egos, and plenty of scrapes). Still, our landlord insisted on taking us to the hospital to get checked over.
Once there- with the help of a local- we were seen and treated quickly. Firstly, the hospital was quiet and clean, and the staff professional and knowledgeable. One quirk of Thailand is that patients are mostly seen in one large room with the curtains rarely closed, to allow the least privacy between you and your mortally wounded neighbour. Get comfortable with staring at your feet for a time. The private hospital bandaged us up, gave us copious amounts of painkillers, tetanus shots and arranged further appointments for getting our bandages changed. It is a stressful situation to be in pain and unable to communicate easily with the people who are there to help you, however, the doctors spoke decent English and it made an otherwise fraught situation far smoother. Doctors are also highly trained in one area of care and usually have multiple hospitals they visit in a day. This is both highly lucrative for them (expensive for us) and makes them tricky
to track down, should you have a specific issue.
Secondly, our experience was so much fun that we forgot about the main downside of private hospitals: the price point. Coming from England, where every citizen is entitled to free healthcare at the point of service, this felt quite strange. But on a working visa you will need insurance, so provided you got a policy that covers your accident, you will get the money back. Comparatively, the prices are much cheaper than the UK or US- for my first visit to the hospital, I was charged 2,600 baht, which converts to around £60. Given that non-surgical related wound care costs anything up-to and from $3690, and costs on the NHS likely more than £2400, the price is somewhat friendly on the pocket. However, once you start getting paid in baht, your opinion of private hospital prices will likely change, since it takes a greater percentage pay packet that could otherwise be spent on better activities, like being anywhere other than a hospital late at night, but it's however you get your kicks.
Government Hospital System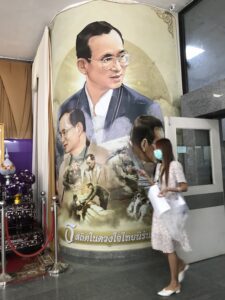 The other end of the spectrum is the public system. All nationals are entitled to heavily subsidised or free healthcare, depending on their income and occupation. This isn't the case for non-nationals, but it costs far less than private, which means more money for those suspect street meat stalls. The experience of walking into a government hospital was very different to the private one. There were crowded waiting rooms, patient on beds in every free space, not to mention a dizzying number of administrative forms to be filled. Once I had climbed that mountain of paper, I was taken for a health check for my visa, filled with worry about the coming ordeal. I'd been warned about how long I would be waiting to be seen- hearing horror stories about full days spent in uncomfortable plastic chairs and counting to a million in your head out of boredom.
Thankfully, it was nothing like that. It was certainly busy, the sea of patients staring at nurses sitting behind desks with microphones calling for patients at a rate quicker than a drill rapper. There was a lot of tooing and froing between the same three departments for an X-ray, blood sample and surprise urine test, but each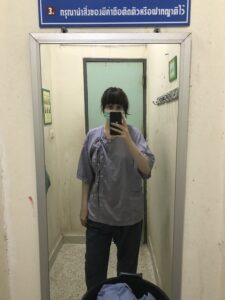 was a relatively quick experience. There was also some miscommunication after I had mystery pills thrust at me to be taken immediately, with only the explanation being 'for your inside bacteria'. As it turns out, I had been given de-worming tablets, a commonplace precautionary measure in Thailand. Being unaware of this, I had a deeply uncomfortable five minutes with powerful imagery conjured by the words 'inside bacteria'. I was mercifully put out of my worry not long after, with the help of a translator. The facilities were good, though again there was very little in the way of privacy- I had to answer some personal questions in the reception and waiting area, and I was thankful to not be speaking Thai for once.
The price for my health check at the government hospital was average, totalling at 520 Baht for the three procedures. Moreso than the private hospital, I would highly recommend having a translator, even if just for the fact that you'll be trying to find your way around a large, maze-like building and you will need to pester people for directions. However, once we got to the correct places, the staff were helpful and professional, which made for an almost pleasant hospital experience.
Finally, should you need medicine post-visit, pharmacies are everywhere and stock everything you would find at home. Some items that you might need a prescription for in the UK are available over the counter, such as contact lenes and certain sleeping medications. This is useful to know, because family surgeries don't exist here, and a hospital visit to find a particular doctor would be required instead. Or you can just stick a plaster on it and hope for the best.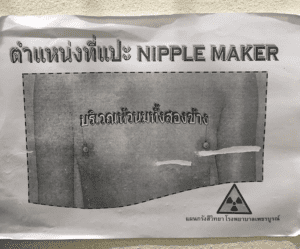 So, which should I go for?
Overall- depending on your needs, don't jump to the conclusion that private hospitals are necessarily better. If you need specialist care, the comfort of space and you're also blessed with a large wallet, then private is a good option to take. But government hospitals can offer the exact same service at a fraction of the price. It's far less glamorous looking, but nursing staff are highly trained and professional, and have access to high quality equipment. Just be ready for some seriously concerning posters in the changing rooms.
Would you like to teach English in Thailand?  Explore our program page or submit an application