By Ken, Teacher in Warsaw
So what can you expect?
First of all, I teach for a well-known language school in Warsaw which offers many other languages apart from English. They have been going for a long time and continue to grow and they also specialize in teaching everyone from kids to teenagers, from housewives to celebrities (if you're lucky!) and the list goes on. In other words, you're in safe hands. I have been working here for 3 months now and it has been great so far. You'll meet so many different types of people with differing proficiency levels and you are always meeting new and interesting people. No two days are really the same here, so if you like variation then you'll most likely enjoy this role!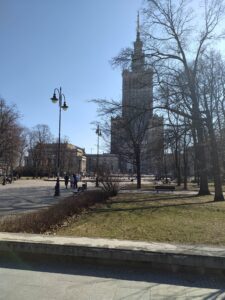 A typical day at a private English school depends on your schedule.  You can choose when to work, so for example if you don't want to work early mornings then you don't have to! It is what you make of it, so if you wanted to work a lot of hours then you could make yourself available all the time, and conversely if you wanted a long weekend you could work Monday to Thursday and then have the rest of the week off. They are very flexible here to accommodate what needs and requirements you have also, so getting days off is never an issue! The school I work for hosts classes from 8am to 8pm Monday to Friday, and then some hours on Saturday. You will have classes on Zoom, or face to face, or on some occasions you will be asked to visit corporate clients at their offices.
Classes can vary greatly also. For example, some days you might teach a group of kids, some days you may just teach one-on-one and other days you might just teach adults. There is no set number of how many classes you will receive either and will also depend on the time of year and also how many clients we have at a given point in time. There is always ongoing support, so if you have any issues you can always ask other teachers or your managers who are very supportive and understanding of any problems that may arise. Generally, you are given a schedule of lessons every day and you are left alone to get on with it. So no micromanaging or managers looking over your shoulder! You will be taught the relevant techniques on how to teach English with ongoing workshops and observation lessons throughout the year.
The classes themselves are 45 minutes long with a 5 minute break. The focus of the lessons is to first teach the new vocabulary and then introduce activities to enhance the client's comprehension of the new words. In many cases the client will have a double lesson. You will be given instructor guides on how to teach using various techniques and methods. Everything you need will be in these guides so no preparation is normally needed. You are also allowed to teach from home, which is a big plus.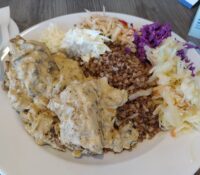 Outside of work, there are a lot of things to see and do in Poland. I personally love "pierogi" which are Polish dumplings filled with vegetables, cheese or meat. I recommend them! They are the most famous Polish dish and absolutely delicious! There are also so many restaurants here in Warsaw you're spoilt for choice. My time off generally consists of going to Biedronka and Zabka for groceries, visiting museums and other attractions and drinking some ice cold Zywiec (one of the most popular beers in Poland!). I've yet to try the world-renowned Polish vodka, but it's on my to-do list. Also drinking "kefir" is great. It's like fizzy sour milk. Honestly, it tastes better than it sounds!
If this all sounds like fun to you, why not apply? You won't regret it!