By Ken, Teacher in Warsaw
Dzień dobry wszystkim! Szczęśliwego nowego roku! (Happy New Year!)
Greetings one and all and welcome to 2023! I hope you all had a great festive period!
2022 was some year for me personally. Moving from Tokyo where I was teaching elementary school kids how to express what fruit they like, all the way up to teaching managers and directors at a bank what fluctuation and illiquidity means in Warsaw, it was one heck of a rollercoaster ride! Anyway you're not here to hear about my self-reflections of last year, you're probably reading this because you're interested in what a normal day/life looks like at the private school I am currently working at. Some days are busier than others, so let's have a more detailed look……
Teaching is seasonal
At my private school we generally have 2 quiet periods – Xmas and the Summer. Both due to people taking holidays and a lot of people in Poland are busy with work towards the end of the year. Our busiest times are generally in September and October when the kids go back to school. A lot of kids get signed up as well as company and individual contracts. This still happens throughout the year, but in general you will get most of your lessons in Autumn and between January and June. July and August are generally very quiet, so you are recommended to work a lot of lessons before Summer to offset the drop in lessons! 
Also it helps MASSIVELY if you are flexible and don't have a lot of commitments as schedules can change very quickly!
A day in the life of…..me! (my schedule)
This picture attached shows my schedule. It's a quiet day, for once!

As you can see, I have an online lesson from 8-930, and then 5-630. This leaves a lot of time in-between to do whatever I want. On a day like this I'd normally get my laundry done, do my grocery shopping, go to the gym and also of course learn more Polish! Quiet days are good once in a while, but too many and I don't get paid what I want so it's definitely a balancing act in terms of what you want. My other days are far, far busier. 
For example: Monday I work 9-5 at a bank which consists of 10 lessons back-to-back with lunch break and then I travel home to teach a lesson online from 630-8.
Thursday I have an online lesson from 8-930, then I catch 2 trams to another city and teach at a company from 11-2, and then I travel back home to teach another 2 clients from 330-630. Phew!
And then on Friday I'm at the bank again 9-5, another 10 lessons back-to-back. It's draining for sure! So definitely think about how many lessons you can handle. On a typical week I work 40-45 lessons, each lasting 45 minutes. Most of the time my clients have double lessons, so they last 90 minutes including a break. These clients can range from beginner to advanced, so it definitely is a challenge at times!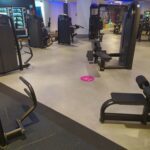 On the subject of gyms, I'd definitely recommend CityFit. They have gyms all over and have really good equipment and classes should you wish to join classes. Oh, and the gyms are 24/7 and open on New Year's Day. I know this because I went on NYD! 
Definitely teach at a private school IF…….
…..you like flexibility in your schedule. You can work when you want and of course if you're doing online lessons where you want within sensible boundaries. Of course, if you have your schedule open from 8-8 every day you'll get more lessons. Like I said, it's a balancing act between getting too many and/or too little lessons. At least at my school, if you want a lot of lessons they will generally try and give you more lessons depending on how many contracts and clients we have at that given point in time. Other private schools are of course available 🙂 And you can also source your own clients should you wish to keep the money rolling in!
If you enjoy talking to a diverse range of people, you'll also really enjoy this job! I've learnt so much about Polish culture and about my students. It's always refreshing to hear about other people's lives, what they like, their views and opinions and also their perspectives on things. I always encourage my students to express themselves to get them talking, and this normally leads to very productive lessons and really helps them understand the target vocabulary/grammar of the lesson and to practice their speaking skills. Of course, don't go off on too many tangents. I say that from experience!
Closing thoughts
Teaching at a private school is something I've really enjoyed so far. I love the variety between the levels of my clients as it keeps the job interesting and fresh and doesn't allow me to relax. Each day is a new challenge and it's something that has really helped me grow as a teacher, and on a more profound level, a person.
Ready to start your teaching adventure in Poland?  Explore our program page or submit an application