By Eva Dianová, Teacher in Bien Hoa, Vietnam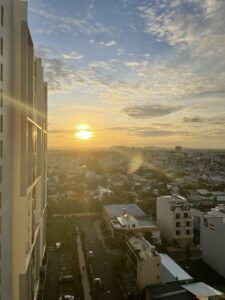 Teaching abroad, exploring other cultures, and saving money at the same time may sound like an unreachable dream at the beginning of your teaching journey. The cost of living has constantly been rising in the past few years all over the world, and Southeast Asia is not an exception. However, compared to the rest of the world, the prices in Vietnam are still modest, especially with the salary of an ESL Teacher. In this article, I will share a realistic budget with you. Please remember that the expenses always depend on the location and your personal needs.
I have been living in Bien Hoa City, the fifth largest city in Vietnam, for the past three months. Bien Hoa is situated only about 30 kilometres East of Ho Chi Minh City. Due to its location, getting to Ho Chi Minh City is super convenient, which is great for wandering on your days off. The vast majority of teachers take into account only metropolis or tourist destinations, such as Ho Chi Minh City, Hanoi or Ha Long. Personally speaking, other yet unknown cities should be given consideration too! Not only is there a higher chance of landing your dream job and getting promoted in the future, but you could also acquire a higher salary because of incentives and spend less money.
Housing and Utility Bills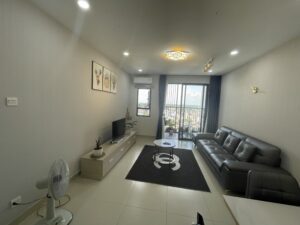 Bien Hoa City offers innumerable options for renting depending on your preferences, from low-cost to high-end living. I share the apartment with my husband, and our top priority is a clean and cosy home. So, we decided to pay a little extra and rent a flat in a luxury apartment complex called Topaz Twins, which was built only two years ago. I appreciate the huge pool, gym, underground parking, and security system in the complex, which is all-inclusive. Our flat has about 80 square meters. There are two bedrooms, two bathrooms, equipped kitchen, a huge living room and a small balcony offering a panoramic view of the city. The rent rate is about 13 million VND (£ 480) per 2 people, including management fees, utility bills and the internet.
However, if you want to save money on rent, there are other possibilities. For instance, two-bedroom flats in other apartment buildings usually cost between 6 and 14 million VND (£ 120-500). You can also share a house with other expats or live with the locals. Electricity and water fees in Vietnam are a bargain! For example, last month we paid only 270K VND (£ 10) for electricity and 60K (£ 2.20) for water (two people). Because of the hot and humid weather, we use AC every night in eco mode. If you want to save even more, you might use a fan instead. However, in my opinion, compared to the prices in Europe, fees in Vietnam are ridiculously low!
Food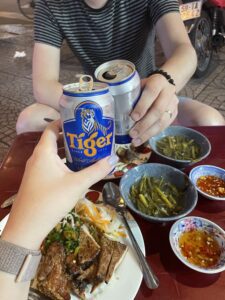 If you consider yourself a foodie, Vietnam is the right place for you. The local food indeed is delicious and inexpensive. All day of eating out, including three meals and beverages, usually costs less than 150K VND (about £ 5). My holy grail is the iced coffee with condensed milk only for 15K VND (about £ 0.50), which is the perfect combination of energy booster and refreshing dessert! When you feel fed up with Vietnamese food, which will not happen often, trust me, you can find various range of western-style restaurants in all major cities. Just keep in mind that it is pricy. For example, a big menu in McDonald's costs about 110K VND (£ 4), the usual price for pizza is around 180K VND (£ 6) or 100K for pasta (£ 3.50).
Asians love tasty drinks! Every night, you can see streets packed with small strolls with plastic chairs occupied by people of all ages sipping their favourite drinks. The most popular are coffee and tea (bubble tea, milk tea, green tea – all kinds of teas you can possibly imagine). The prices are low, between 2K for plain iced green tea to 60K (£ 2.20) for iced latte matcha in Highlands Coffee. However, western chains like Starbucks are, of course, more expensive. Fall's signature beverage, Pumpkin spice latte, costs 110K VND (£ 4). If you prefer alcohol, beer is the number one choice. In fact, Vietnam currently holds the accolade for the world's cheapest beer. The prices vary. Home-brewed tapped beer is about 12K VND (£ 0.40), and canned beer is between 15 and 25K VND (£ 0.50 – 0. 90).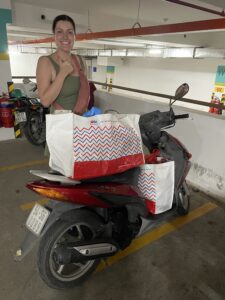 Transport
Buying or renting a motorbike is the only way to commute in Vietnam. The public city transport system seems too complicated and unreliable that I haven't unravelled it yet. You can find an automatic second-hand bike for 15 million VND (£ 550) semi-automatic for 10 million VND (£ 360). However, as I am not very technical, and it would be a huge responsibility for me. So, I rent an automatic motorbike for 1,5 mil VND (£ 55) a month. I pay monthly, and the rental company constantly checks my bike, so I don't have to worry about it at all. For longer distances, taxis are a great way to go. The prices are usually set at 16K VND (£ 0.60) per kilometre. I recommend the mobile app Grab (the Asian equivalent to Uber). You can take a taxi or a motorbike, which is about half the price of a cab.
Other services and Entertainment
Last but not least, I would like to subsume services and entertainment in my budget. Not everyone will relate to this category, but I think it is worth mentioning. I love spa and wellness, and when I heard that an hour and a half full body massage costs only 350K VND (£ 12.80) in a luxurious salon, I simply had to try it, and I did not regret it. When you go to Southeast Asia, it would be a shame not to try some of these experiences! Gym membership is about 500 K VND (£ 18) per month, a ticket to the cinema 50 K VND (£ 1.80) or a man's haircut – 50-100 K VND (£ 1.80 – 3.60).
Conclusion
As you can see, even though I do not scrimp, I am able to save about half of my salary each month. Please bear in mind that trips, clothes, or more significant expenses are not counted in my budget. To conclude, if you are considering which country in Southeast Asia you should move in, Vietnam is, in my opinion, choice number one. Not only can you enjoy all the upsides of living abroad, like exploring this incredible country, but you also put away a considerable part of your wage. Which is totally worth it, what do you think? If you are interested in teaching in Vietnam, stay tuned for the following article!
The cost of living per month
Housing and Utility Bills

(My half)

240 £
Food and Essentials

(Rough estimate)

200 £
Transport

(My half renting + fuel)

30 £
Other services and Entertainment
50 £
Total
520 £
Would you like to teach English in Vietnam? Explore our program page or submit an application