By Ken, Teacher in Warsaw
If you're reading this blog, chances are that you're interested in moving to Poland and you want to know more! In this blog post I will be answering the most asked questions people ask me about moving to Poland. At the time of writing, I have been teaching in Warsaw for just under a year at a private language school and it has been brilliant so far! Anyway, let's answer those FAQs, shall we?
Why Poland?
Poland is a very fast growing country with tons of opportunities for people who want to teach English! There are many, many opportunities ranging from teaching kids at kindergartens all the way to teaching corporate businesses and clients. Also, if you have ever wanted to travel within Europe, travel is SUPER CHEAP. Since Poland is located in Central Europe (No, NOT Eastern Europe!) the travel links to other European cities are frequent and very, very cheap. You can get to several other European cities for 50-80 zloty . That's only 9-15 pounds, and only 13-18 US dollars! (conversion rates correct as of January 2023). Also, so many Polish people want to learn English and so there is hardly ever a shortage of clients. If you want to be really proactive you can also source your own clients. 
Did I mention that travel is very cheap?
How much are apartments to rent?
Of course, if you are living in the centre of a big city such as Krakow or Warsaw, costs will be a lot higher than your average apartment. Apartments tend to be quite small also (mine is a mere 17m2 studio apartment!) and because of inflation and the war in Ukraine, bills have soared too. Here are some rough estimates based on what I have paid/seen: These prices are relating to Warsaw specifically and may vary.
Shared accommodation inc. bills (city centre): 1200-2000 zloty per month
My 17m2 studio apartment inc. bills (city centre) – 2350 zloty per month
Average studio apartment inc. bills (city centre) – 2600+ per month
If you are living away from the centre, you can subtract roughly 300-500 zloty from the aforementioned prices.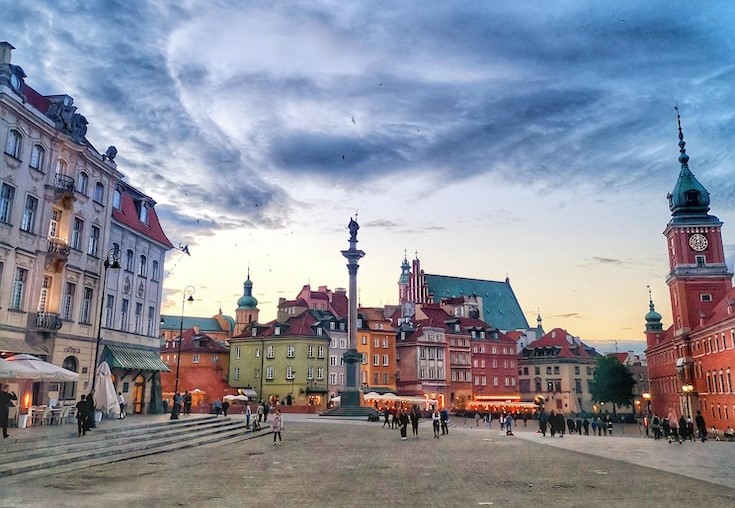 How much will I pay for food/other expenses? (January 2023)
Food prices have also increased due to inflation, but here are some rough estimates based on Biedronka's food prices (the main supermarket franchise in Poland). Prices are "cheap" if you're coming from America or the UK, but once you start earning in Polish Zloty they aren't quite as cheap! 
Loaf of bread, 1 litre of milk – Around 3 zloty
10 eggs – Around 8-10 zloty
500g mince – 8-10 zloty
Big jar of coffee – 20-25 zloty
Monthly phone bill – 15-30 zloty depending on network usage/allowance
Gym membership – 100-150 zloty per month depending on location/gym
Most Biedronkas have a bakery inside and you can buy cheap bread from there for as little as 0.33 zloty per roll! Meat such as chicken tends to be a little expensive.
How much can I make teaching English?
This will depend of course on many factors such as where you are working and how much work you are given. Salaries in Poland aren't the highest, however if you are teaching a lot of lessons and being somewhat careful with your money then it is possible to live very easily even in the heart of Warsaw and also have an active social life. Typically speaking I make 4-5000 zloty and upwards every month after tax, teaching 35-45 lessons a week at a private language school. This is more than enough to live well and live on my own in the centre of Warsaw!
How do I get a visa to work in Poland and how long does it take?
For anything visa related, please ask your country's embassy. Each country has a specific way of handling visas. Typically speaking, obtaining a visa to work in Poland can take anything from 3-4 months. Unfortunately, in most cases this process cannot be sped up so patience is a must!
What are Polish people like?
Generally speaking, they can be a lot more straight faced than UK/Americans. They tend to keep to themselves but I've never had a problem with anybody. They might not smile all too often in shops but they're always happy to help. In other words, you shouldn't have a problem, just bear in mind that Europeans don't smile as much in this part of the world! And yes, a lot of them speak English!
Ready to start your teaching adventure in Poland?  Explore our program page or submit an application