By Amy McCadden, Teacher in Phetchabun, Thailand 
It'll be a scenario familiar to many expectant ESL teachers- you've interviewed with an agency, filmed your introduction video and crafted your CV, before patiently waiting for an offer of placement. Very patient, if you applied during COVID-19. But eventually the e-mail arrives and you rush to open it, picturing your days in the bustling cities and beaches, and-
'eh? Where on earth is that?'
It's easy to have a fixed idea in our head of what our 'perfect' Thailand teaching experience would be, right down to the number of trendy coffee shops we'd be visiting daily, but the reality is often different. While Thailand is rapidly urbanizing, the rural population still accounts for 48% of all inhabitants. In a population of 69 million, that means there's a huge demand for teachers not based in inner cities or touristic areas.  So, if you get offered a place in an area that you didn't expect, don't fret; using my own experience, this article will outline some of the benefits and drawbacks of living in the country. Evaluating these options now will enable you to get on with the important stuff later- having fun!
Why Live in a Rural Area?
One of the immediate benefits is the cost of living. In comparison to Bangkok, the price you pay for your accommodation is striking. In Phetchabun (located in central Thailand) the rent for a spacious, two bed bungalow in our village is 5,000 baht, which is roughly £122. For all the bills (including rent, scooter hire, electricity, water, and our mobile top-up) which I split with my boyfriend, come to 4,0378 baht, or £123. It's good peace of mind to know that we live in a nice area, and extra living space is better than not having enough. When you couple this with cheap restaurants and local market produce, it means more money in your pocket to be saved for future adventures.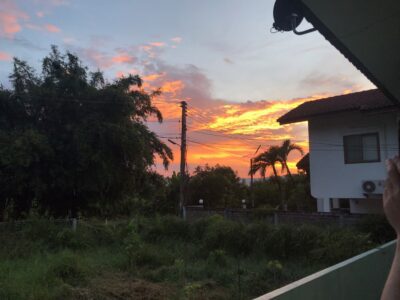 Another plus to living in a rural area is help from locals. We live in a small village built by one family who are very hands on and happy to help us with anything we might need. We see our landlord every day, and he is always a friendly face for us. He even took us to the hospital when we fell off our bike in the first week of moving in (which I go into detail about here), and relieved a lot of stress by translating our issues between us and the staff. The generosity shown to us by neighbors and other locals would be harder to find in a less tight-knight community, or with a landlord who did not even live in the same city as you.
But by far, the best part of living where I do is the scenery. Instead of cities so densely packed they have to start building I'm surrounded by mountains and lush farmlands. I can be in the middle of nowhere within a few minutes' drive and there's Khao Kho national park nearby, which is the holidaymaking spot for Thai people. It's a township high in the mountains, where you can go 'glamping' and wake up with a view of the misty mountains. Having areas of outstanding natural beauty practically on your doorstep allows you to experience a Thailand less commonly written about, and you'll be rewarded by going beyond the usual vlogging spots.
Why Not to Live In a Rural Area?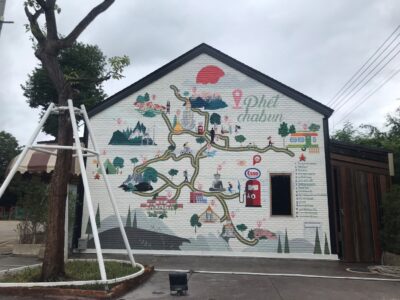 While there are many upsides to a more rural living style, it is not for everyone. From talking to the foreign teachers at my school, we have shared some or all of these struggles at one point. It's good to keep in mind that even though a year is not a long time, it is important that you are able to settle in easily when you move thousand of miles away from friendly and family, and where you live heavily affects this!
One of the more difficult elements is the remoteness. Because Phetchabun is central Thailand, it takes 7/8 hours to get to Bangkok in the south and also to get to Chiang Mai in the north, so it's not feasible to visit every weekend. These buses cost between 300-400 baht and leave several times a day, so it is very affordable, just time consuming. Similarly, the remoteness of rural living means there are fewer activities outside of work, so for those who are after non-stop action-packed free time should keep this in mind. You have to be excited for a calm pace of life, because the initial relaxation wears off quickly, and you'll get itchy feet. What's more, you'll have to learn to ride a bike, because you might live too far to walk anywhere, or maybe they don't offer Grab. This might seem obvious, but it's something I had not considered when I moved almost an hour's walk away from my workplace with no bus service and not a Grab cab in sight.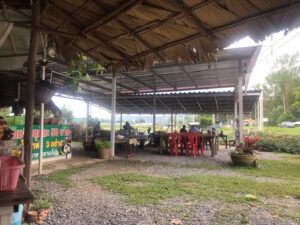 Depending on what your aim is, it can become more frustrating because fewer people speak English. You don't choose to live abroad for the ease of communication per se, but there is a greater need for you to use apps and learn Thai than would be living in a city. This isn't necessarily a bad thing but something to consider, especially when learning a language can be time-consuming, or if you have specific needs you must communicate.  The upside is that you're forced to develop a skill, and learning even basic Thai really does make a difference in how you're received as a foreigner.
Living away from the cities means you have access to smaller expat communities. Facebook and LINE groups are helpful, but don't compare to meeting up with other foreign teachers and travelers to share stories and offer advice. In Phetchabun there are few foreign teachers, and thus no real expat community to speak of. There are a small number of older expats, who are keen to offer help and guidance, but there's few people similar in my age. This can exacerbate loneliness on those days when you miss the ease of talking to those who understand both your language and the stresses of your profession. Hopefully you will have a large enough language department to give you the chance to meet other people, and keeping in touch with friends from back home should help. In my experience there has been little socializing with the Thai teachers outside of work, but depending on your own situation, this could be different.
Tips to Help You Decide
Finally, it is most important to be clear with yourself, and your agency- rather than think about the dream experience, think about the day-to-day. Do you want the peace of a rural area, but actually need to socialize a lot? Do you want to be doing lots of activities, but find the hectic nature of a city overwhelming? Given that you'll spend a good chunk of time working, does the thought of hustle and bustle invigorate you, or would you prefer a more laid-back teaching environment? Making a list of pro and cons can be helpful in your decision. Remember- don't go with a school just because you're worried about never getting out there. You're going out there to teach, and providing yourself with the best surroundings to do your job should be key- you'll have plenty of exploring on holiday, don't worry about that!
To sum up- living in a rural area can be a wonderful experience. You can interact with friendly locals, see things tourists don't and enjoy beautiful surroundings. On the other hand, it can also be an isolating and frustrating experience, with not so much to do. It really depends on what you're after. Would I recommend it? After almost five months here, I would definitely recommend living in a rural area. But maybe next time somewhere that offers a better western takeaway than just Pizza Hut.
Would you like to teach English in Thailand?  Explore our program page or submit an application