By Jodie White, teacher in Chiang Rai
When I moved to Thailand during Covid, I was extremely lucky in that I didn't need to undergo 'proper' quarantine. Rather than being isolated in a hotel room or quarantine hospital for two weeks without being able to leave at all, I completed the 'Phuket Sandbox Scheme'. This allowed any fully vaccinated people to enter Thailand and complete their two weeks quarantine in Phuket, but without being stuck inside. So long as you met all the requirements, the Phuket Sandbox Scheme allowed you to freely move about Phuket.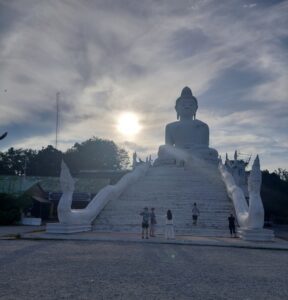 Preparation and Arrival in Phuket
The single most important requirement for the Phuket Sandbox Scheme is that you must be vaccinated. It is also required to stay at an approved hotel, where most of the staff are vaccinated. Nevertheless, this was not a problem as there were plenty of hotel options to choose from. At the time, it seemed like there were a lot of hoops to jump through in order to choose the Sandbox Scheme over normal quarantine, but it seemed worth it. After all, who wouldn't want to spend two weeks essentially on holiday in Phuket?
However, when arriving at the airport, everything went a lot smoother than I had expected. It only took around thirty minutes from getting off the plane to being in the taxi, which was pretty impressive considering the amount of paperwork I had. Fortunately, the airport was really organised and efficient. Before getting in the taxi, it was necessary to have a PCR test, which again was very quick. I was not allowed to leave my hotel room until the results came back, but this only took a couple of hours and after such a long flight, it was the perfect time to order some food and have a nap. The hotel reception simply called me to tell me that my test was negative and I was now free to roam around Phuket.
What Happened in Phuket
Before arriving in Thailand, I had read online that bars and clubs were closed in Phuket and most places were not allowed to sell alcohol due to Covid; this was surprising given the fact that Phuket is known for being a party destination. However, I wasn't too concerned as I figured that rather than partying, I could spend two weeks exploring, swimming in the sea and chilling out in the sun. Yet, all of these plans were ruined by the first evening. Despite what I had read online, it turned out that pretty much everything was open in Patong. Bangla Road is possibly the biggest party destination in Phuket and was extremely lively, while also only being a few minutes away from my hotel. This also turned out to be the best place to meet people. Every single night in Phuket ended up somewhere along Bangla Road. The only downside to this was that it meant I was too tired (and usually hungover) to actually do much sightseeing in the daytime. However, I didn't mind this too much as I felt that the people I met were the most interesting part of my entire time in Phuket. I met many other foreigners, along with many Thais who were holidaying in Phuket. Immediately, I understood why Thais have a reputation for being so friendly and I learnt so much from the ones I befriended.
In fact, meeting people and making friends was probably the only reason I did any sightseeing. A Thai had a car and invited me on a tour of Phuket, which meant we got to experience a lot in one day. We went to a secret beach, saw some elephants and monkeys, and visited the Big Buddha statue. It turns out that this was the ultimate hangover cure and despite having had no sleep the night before, this was my favourite day in Phuket.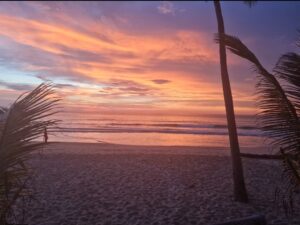 Leaving Phuket
I underestimated how sad I would be to actually leave Phuket, but this was definitely because I didn't want to leave all of the people I had become such good friends with. On the last night, we had a boat party with everyone that we had met and then took one last trip to Bangla Road. The flight to Chiang Rai was awful, mostly because we had a six hour layover in Bangkok and had hardly slept the night before. Nevertheless, it was definitely worth the fun that we had in Phuket. Overall, when people think of quarantine, it isn't something that you would particularly want to do. However, I am so happy that the Phuket Sandbox Scheme was required to enter Thailand; I met so many people, some of whom I have even seen since I moved to Chiang Rai. It's nice to know that I now have friends living in all different areas of Thailand, and I am already making plans to return to Phuket as soon as possible.
Is Thailand the place for you? Hop on over to our application form to tell us. Or, if you're still not sure, drop us a message; we're here to help.
Do you want to be the first to hear the latest news on all things teaching in Thailand? Subscribe for our Thailand mailing list.