This was the question I was asking myself about four years ago, or rather, the question I thought I should be asking myself. Instead, I was packing my bag and getting ready to head to Shanghai for the summer. I knew I wanted to travel, and I've always enjoyed new experiences, but I'd never considered a career in teaching and certainly didn't see myself as 'teacher material' – I didn't even want to work with kids! However, when the opportunity arose to teach in China with Impact Teaching, it seemed too ideal to turn down: hotel accommodation, chance to meet new people, and the added bonus of being able to write about it on my CV in the future. What I hadn't anticipated was the bond I would make with the kids, and the passion for teaching I would discover… and China was just the beginning of the journey.
Where it all Began: China 2018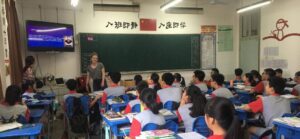 Having studied English Language and Linguistics at university, I was interested in English but hadn't thought about where it could take me. Then I came across Impact Teaching at a University Global Opportunities fair at the University of York. It's fair to say that my life could be completely different now if not for this encounter! I took a chance and ended up in Haining, China for the Summer of 2018. Here, I would teach English to thirteen- and fourteen-year-olds for two weeks, before visiting Shanghai with the friends I made on the program. The lesson planning was completely new to me, I was slow and inefficient with my plans, and mostly ended up getting distracted by all the other amazing things happening around me in Haining. I ended up managing to put together fourteen lesson plans, with the help of teaching assistants, friends and Impact Teaching resources. It's amazing how quickly you can get into a routine though, it became just a part of the day (and after the first week, not a part I dreaded!). What I could never have imagined was the effect the lessons seemed to have on the kids. They loved learning English and they loved me, too. It built my confidence in the classroom an immense amount over such a short time. Nearly four years later, I can remember a lot of those student's names, and can also remember getting emotional on my last day at the summer camp as some of the kids were inconsolable that I was leaving. At this point, I knew I wanted to work with children, but I still wasn't completely sold on teaching, so I did the only logical thing and went back to China with Impact Teaching in 2019.
The Next Logical Step: China 2019
This time in China, I went to a city called Huzhou with a completely new group of teachers. This meant the experience was almost completely different, but equally as unforgettable. I felt more comfortable with lesson planning and wasn't even nauseous with nerves before teaching a class. These students were a little older, around fifteen- and sixteen-year-olds, which meant I got to develop even more teaching skills that I hadn't used before. For instance, the sixteen-year-olds are less confident with contributing to class, meaning I had to cold-call for answers a lot more whilst still ensuring the learning environment felt safe and relaxed. After spending another summer in China, I felt more and more certain that teaching could be a real possibility for me, but I still wasn't completely sold. It can be hard to distinguish between the love of travel and the love of teaching. Was I having such a good time because I was abroad or because I was making a difference? There was only one way to be sure… I had to move to Poland.
The Big Move: Poland 2020
Poland might seem like a drastic next step, but I was just about to graduate and knew that regardless of my career, I wanted to live abroad. I spoke with Impact Teaching a lot about the different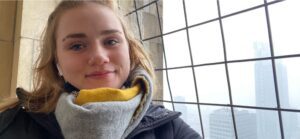 options, and I mean a lot. With such a big decision, I wanted to make sure I knew everything about my options before fully committing. With the recent COVID-19 pandemic (sorry to bring it up), China was temporarily no longer an option, and I would need to look a little closer to home. Just like with China, before going to Poland I had never visited, or thought about visiting, but when presented with the opportunity I was just as excited as I had been before I went to China the first time. The process to get to Poland was quick and before I even got the chance to be nervous, I was the airport in Warszawa. The first few weeks were an absolute whirlwind of meeting new people, being typical tourists, and getting settled. Moving abroad, alone, for the first time ever was exciting and overwhelming at times, but absolutely amazing. In the classroom, I felt like I was developing as a teacher with every lesson I taught. I quickly got into a routine of balancing the exciting new experiences that Warszawa presented with the exciting new challenges and rewards that teaching presented. I lived in Warszawa for about six months before moving back to the U.K. in the hopes of continuing my career in China, but alas COVID-19 still had other ideas!
Teaching Online: A Lockdown Special
Faced with being back in the U.K. now for an indefinite time, I was adamant I didn't want to forget my passion for working with children, or my new-found passion for teaching. After many lengthy conversations with Impact Teaching again, they recommended I start teaching online during the pandemic, that way I could support myself whilst still developing and learning about teaching. This is exactly what I did whilst at home. I spent everyday teaching students in Mainland China from my room in Derbyshire, and despite feeling a little trapped as a result of the lockdowns, it was great to be able to speak to students of all different ages about what life was like for them on the other side of the world. I realised that whilst I still wanted to work with children, teaching adults was also rewarding, and they were always forthcoming with their goals and their appreciation. But no amount of appreciation could have kept me in the U.K. when I had another opportunity to teach abroad, and only when I decided to pursue teaching through qualifications did I return once again.
And What about Now?
Now in 2021, back in the U.K. I'm a trainee teacher doing my PGCE with the plan to teach abroad when I am fully qualified in May 2022. When in the classroom back home, I realise how much I've learnt from my time teaching abroad. From classroom management to safeguarding, I feel much better equipped to deal with anything that might come up. Teaching in the U.K. hasn't stopped me thinking about being abroad though, and once again I've had many, many, conversations with Impact Teaching about which ESL location should be my next destination. Thailand? Vietnam? Back to Poland? If you're thinking about making the plunge into ESL teaching and are not sure if you're going to fall in love with the profession, don't overthink it just yet. Start with thinking about where you want to travel to, maybe you want to experience more of Europe? A bit of Asia? Consider this first, and then when you get there, there's only one way to find out if teaching is for you…
---
About the author