Teach English in Poland
Since joining the EU in 2004, Poland has been making a name for itself as one of Europe's coolest travel destinations – and it's not hard to see why. Safe, affordable and interesting, the country offers great appeal to those in pursuit of somewhere a bit different, but not too far from home.
The nation's newfound status has pushed the government to officially recognize the importance of learning English. Now, to progress beyond basic schooling, everyone must pass an English test. So you can guess what's coming next; demand for English teachers is growing.
GETTING STARTED
How to Find a Job Teaching English in Poland
Anyone wishing to teach English in Poland will be pleased to know there is endless choice. Whether you want to work with children or adults, beginners or professionals, you'll find something.
While the abundance of positions makes it easy to find suitable jobs, it's not always straightforward. Unless you know the language or the local market, it can be hard to negotiate a good deal and set everything up for your move. To ensure you make it to Poland stress-free and prepared, we advise browsing our programs. Working with in-country experts, we ensure a well-paid position in a reputable school, as well as training and support if required.
Browse our programs and destinations to learn how we can help you get qualified and find a job teaching English in Poland.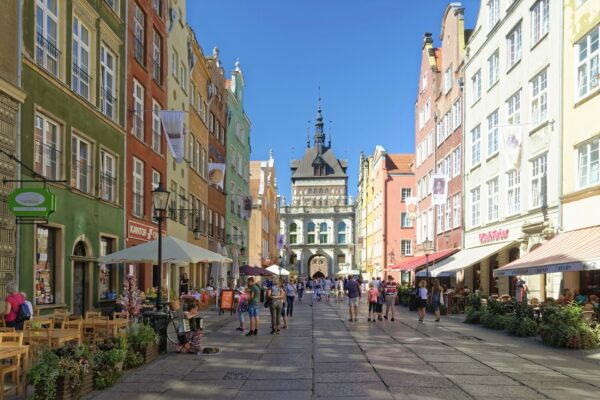 Freelance Teaching Program
Combining the freedom of freelancing with the security that expert support provides, this is the ideal route for experienced teachers or seasoned adventurers. Ease your way onto the Polish ESL scene and start making an impact from day one.
WHERE WILL YOU GO?
Explore Our Locations in Poland
POLAND
The Facts & Figures
Language
Poland's official language is Polish. It is spoken nationwide, though many Poles also speak a very good level of English, so you won't have trouble getting by.
Geography & People
Located in Eastern Europe, Poland borders Germany and the Czech Republic among others. It has a population of around 40 million.
Climate
Poland has a moderate climate, with warm summers and cold winters. It rains quite a lot, but you can count on comfortable temperatures year-round.
TEACHING ENGLISH IN POLAND
What You Need to Know
Poland is taking Europe by storm with its hearty cuisine, quaint city centers and fascinating history. Here's all you need to know about teaching English in this up-and-coming hotspot.
Entry Requirements
To teach in Poland, you will need to be a native English speaker and hold a TEFL or CELTA qualification. EEA citizens do not need a visa to work in Poland.
School Types
The main placement options are: bi-lingual kindergartens (Monday to Friday, regular school hours), teaching classes at private schools (mostly after school hours during weekdays), and teaching business to adults (daytime during weekdays, often done online).
Salary Expectations
While English teaching salaries in Poland don't rival that of some places, they are more than livable. Expect either a contracted salary or an hourly wage.
Top Locations
Most English teaching positions are in the larger cities of Warsaw, Krakow and Gdansk. It's possible to find jobs elsewhere – you may just need to look a little harder.
Teaching Hours
Weekly contracted teaching hours depend on your school type. Usually, kindergartens offer a contract for 40 hours, whereas private schools and business English schools offer part time hours of about 10-15 per week. If you get offered a part-time job, we look to line up more than one employer for you.
Things to watch out for
Generally, it's not too hard to find a good position in Poland. As with anything, if an offer sounds too good to be true, it probably is.