Hey there, I'm Lauren.
I first went to China in 2013 on a university study trip. As soon as I left the airport and arrived at my hostel in a crumbling Beijing hutong, I fell head over heels in love with China.
After just three weeks of studying at Shandong University alongside a group of other British students, I'd made up my mind: I would live in China and master Chinese.
I remember sitting in the university library back in Southampton researching ways to return to China as soon as I graduated. It wasn't long before I found Teach English In China's website and got sucked into watching almost every YouTube video on their channel. I was desperate to go back, so I applied as soon as I started my final year.
Getting to China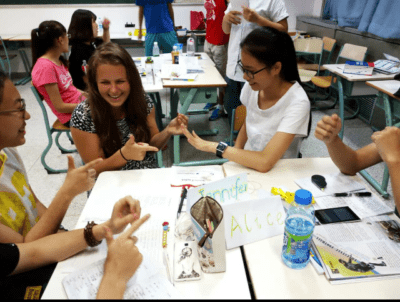 Anyone who's done it will know getting a Chinese work visa is no walk in the park. It took several months, but with the help of the Teach English In China team, I was boarding a plane with a few bags of belongings and a belly full of nerves.
Fortunately, my close friend Laura was going with me. We'd been placed in the same school in the capital of Shandong Province, Jinan.
It sounds cliché, but what followed was a whirlwind of life-changing adventures. We taught at a newly established primary school on the outskirts of the city, where we were the only two foreign teachers. Although it got lonely at times, looking back, I wouldn't have wanted it any other way. We threw ourselves in wholeheartedly to the school, taking every opportunity to get involved in extra-curricular activities and socialize with our colleagues.
One of my favourite memories is the special Halloween event we organized to teach the students about the festival. The whole school dressed up in scary costumes and took part in a series of games we'd arranged, such as an egg and spoon race, a sack race, and a game of pin the nose on the witch. I heard several years later from a colleague at the school that they'd kept this tradition, which felt so special that we'd made that much of an impact.
Travelling around China
Besides learning Chinese, another reason I wanted to go to China was to travel. I'd done my fair share of trips around Europe, and I wanted to expand my horizons and see something new.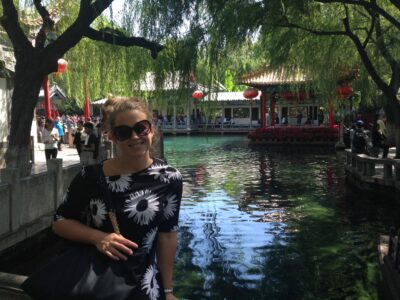 Together with Laura, I made the most of it. We saw almost every major city along the east coast of China, putting our language skills to practice and making memories along the way. I still look back at our photos and remember it all so vividly.
When our placement ended, we decided to extend our trip and travel around Southeast Asia. After making our way through South China, we travelled through Vietnam, Cambodia, Thailand and Myanmar before making our way back to reality.
When I returned, I joined Teach English In China as a Programme Director, helping the next cohort of teachers start their own China adventure. I loved the job, and it helped kickstart my career. But I couldn't suppress the urge to get back to China. So within a year, I found a marketing job in Shanghai and left once again.
Life in Shanghai
Leaving for Shanghai was strange. When I went to Jinan, I knew it was only for a year. But this time was different; it was an exciting opportunity that I could see myself doing for much longer. After I started the job, time seemed to accelerate. Before I knew it, I'd been there for two years, been promoted, and had no intention of moving back home.
Life in Shanghai is addictive. It's an intoxicating place with electric energy and a buzz about it that makes you feel like anything is possible. You meet so many interesting people from all walks of life and all corners of the world. There are communities for almost any hobby you can imagine, however niche. There's always something happening. A networking event to attend, a dinner with friends, a live music performance. It's just so much fun.
Living through COVID-19
Our social lives came to an abrupt halt in early 2020, and I don't think I need to explain why. We spent several weeks in lockdown, and schools were forced online for the best of six months. This policy affected the place I was working. Although it was a Chinese school for adults, it fell under the remit of the Education Bureau, which meant it couldn't open.
I took this as my sign that it was time to move on. After applying to various roles at small companies in the city, I took a chance and applied for one at Huawei. Within a couple of months, I'd passed the interview and accepted a job as an in-house copywriter.
Working there was an eye-opening experience. It was so different from anything I'd done before, and it was the first time I got an authentic glimpse into Chinese work culture. But that's a topic for another blog post.
I stayed at Huawei for a year. During that time, I had the chance to visit the Shenzhen headquarters and the Chengdu office, where I starred in two of the company's promotional videos (perks of being a foreigner).
However, by the end of my contract, my partner and I decided it was time to come home. We'd been there for four years in total, and sadly there were no signs of it getting any easier or cheaper to leave and get back to China.
Life back in the UK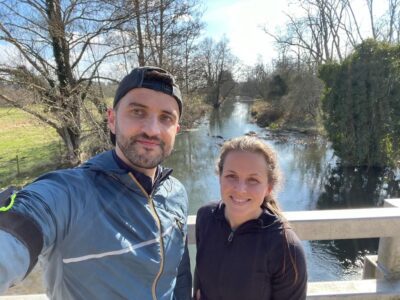 The culture shock hasn't been nearly as bad as I expected. When I first returned from Jinan, I had such itchy feet that I couldn't sit still. Everything seemed dull compared to what I'd experienced, and I felt like I was missing out by not being in China.
This time is different, though. I can tell it was time to come home because I appreciate everything more. This is helped by the fact that I recently set up my own copywriting business called Copy That. Now, I'm writing website, social media and email copy for UK- and China-based brands. I know what you're wondering – not in Chinese. I reached a level I'm happy with, but I'm a long way from writing copy in Chinese. That said, I've got plans to draw on my experiences, knowledge and understanding of Chinese to grow Copy That. 😊
China has played a pivotal role in my life so far. What started as a post-graduate adventure has shaped my career, introducing me to people from all over the world and giving me enough memories and stories to fill a book.
While I'm happy to be home and embarking on a new adventure, one thing's for sure: I'll be back there to visit as soon as I can.
Website link: www.copythat-copywriting.co.uk
Instagram: @copythat.copy
Ready to head over to your dream ESL destination?  Explore our programs in Vietnam, Thailand,  China, Cambodia or Poland  or send in an application.